Grower Profile: Braiseworth Orchards
Growing specialist varieties that get consumers excited about the apple category, and working in harmony with nature, are central to the business direction of Braiseworth Orchards. Deputy editor Sarah Kidby visited the Suffolk fruit farm.
Grower profile:
Grower: Braiseworth Orchards
Location: Eye, Suffolk
Total growing area: 25ha, approx. 60,000 trees
Soil type: Loam
Fruit grown: Apples (Jazz, Envy, Daliclass, Kissabel, Ladina, Pink Lady and Suffolk Pink)
Based in Eye, Braiseworth Orchards has been a fruit-growing site since before the Second World War. It was purchased in 2001 by current owner Jeremy Linsell, who had previously managed the farm and worked in the top fruit sector as a manager since the early 90s. In addition to  running the farm, he also has a technical role with World Wide Fruit Ltd which involves managing the technical side of varieties such as Jazz and Envy, advising growers on best practice and looking after the variety pipeline.
Unlike the chalky boulder clay soil that is more typical of the Suffolk area, Braiseworth is blessed with a loamy soil type. Soil health is particularly critical for the farm as the hectarage means that planting new orchards on a new site is not an option. Some sites may be replanted four or five times, creating challenges with apple replant. This antagonistic reaction between the remains of the roots from the previous tree and the new tree can take 30–40 years to disappear.
In order to help manage these challenges, incorporating new organic matter when planting a new orchard is vitally important, Jeremy explained. Braiseworth uses natural soil organisms to improve soil health where possible, including farmyard manure from the neighbouring pig and beef farms and composted household waste. All prunings also get reincorporated back into the soil and each new orchard is seeded with wildflowers, which encourages predatory and pollinating insects as well as benefitting soil health. Jeremy believes in looking after pollinating and predatory insects for as long as possible – not just for a few weeks of the year when trees flower. While the farm works with local beekeepers for pollination, he noted the importance of encouraging a range of pollinators. There is a common public misconception that honeybees are the only pollinating insect, when in fact lots of other pollinators such as solitary bees are significantly more effective.
Natural control
This focus on working with nature extends to the farm's approach to pest and disease. Typical pests affecting the orchard are the same as for any top fruit grower in the UK – and include apple scab, powdery mildew and red spider mite. A real success story for the farm is its complete natural control of red spider mite through managing predator numbers. Aphids are also controlled successfully through wildflower strips, again to encourage natural predators. The woolly apple aphid, for example, is a significant problem for UK apple growers. It hides itself in wool to prevent predators accessing it – hence the name. To overcome this problem, Braiseworth sprays the trees with bittersalts, a natural product to wash the wool off the aphids, and encourages the predatory wasp, Aphelinus mali.
The farm also continually monitors weather data through an Agrii weather station – alongside using pest and disease prediction models to enable them to target their control methods. Apple scab is one of the farm's biggest problems and targeting control is particularly important in the early part of the season. Complex modelling around actual and forecast data is used to predict the likelihood of an infection.
Two of the farm's biggest caterpillar pests are the codling moth and fruit-tree tortrix. Pheromone traps are used to trap pests and indicate the numbers that are active at that time, and a prediction model forecasts when the moths will be laying eggs. Where ag-chems are used, they target a specific stage of the moth's lifecycle.
Finally, varietal selection using plant breeding to produce varieties with natural resistance, is another prong in Braiseworth's approach. Although not an organic farm, and with no plans to head in that direction, the farm's use of ag-chems is declining each year and biological control methods are used where possible over traditional pesticides.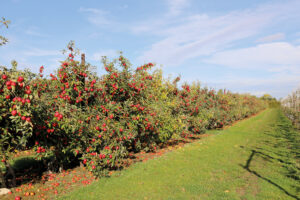 Steering away from commodity apples
Aiming to give consumers something a bit different, Braiseworth has steered away from planting commodity varieties. In 2005, it became one of the first UK orchards to plant Jazz, which now makes up around 50% of the farm's hectarage. Jeremy's technical role at World Wide Fruits sees him travel around the world tasting different apple varieties, and in his opinion not much comes close to Jazz in terms of eating quality.
"It's a sweet, juicy apple with consistent eating quality, firm texture and good storability," Jeremy explained. "We can offer consumers UK-grown Jazz from the end of October right through to July. Jazz has a global team working with Southern Hemisphere suppliers, so we can provide our customers with year-round supply."
Other specialist varieties grown on the farm include:
Envy: Another important variety for Braiseworth, and the sister of Jazz, Envy has become a key variety in other parts of the world, particularly around the Pacific Rim. It is grown widely in New Zealand and other parts of Europe. "In terms of eating quality it's fantastic, because it's very sweet and firm – the apples are dense and heavy," Jeremy noted. "The challenge in the UK is it tends to get a bit too big. It's a big claim to fame for the farm as we are the most northern Envy grower on the planet."
Daliclass: A real balance of sweet acidity, Braiseworth refer to this as the "marmite apple" – you either love it or hate it.
Kissabel: Braiseworth was the first commercial Kissabel grower in the UK. It is a red fleshed apple which has been the "holy grail of apple breeding" in the past 20 years, Jeremy said. "We're trying to give our consumer something different. Our competition in the marketplace is not apples, it's soft fruit, exotic fruits, berries etc. People eat all kinds of fruit, and we need to excite our consumer," Jeremy explained.
Kissabel is a particular hit with children and there's even some circumstantial evidence to suggest possible health benefits of red flesh – but this is pending official medical evaluation. Jeremy looks after Kissabel in the UK for World Wide Fruit and works with the breeding programme in Europe. "This is a real direction for the top fruit category; I think red flesh will become more and more available," he commented.
The farm also has its own juice project under the label Blush. It's produced by a local artisan company using waste Kissabel apples and sold in local farm shops. Braiseworth market this product themselves and a local holiday cottage company also includes it in its welcome packs. "Again, it's about giving the consumer something different and getting them excited about the apple category," Jeremy added.
Ladina: This is a new scab-resistant variety grown specifically for M&S. Harvesting the first crop this year, Jeremy said it has a modern texture and unique flavour profile – think peach Schnapps.
Pink Lady: Probably the most widely recognised apple brand in the world, UK growers have long wanted access to growing Pink Lady and this is a project Jeremy manages in his World Wide Fruit role. Braiseworth picked their first Pink Lady apples in 2022 from 300 trial trees, and they are planting new trees this winter.
Suffolk Pink: This variety has been grown for Waitrose for a number of years; it's an early season apple picked in August.
Although it goes against its usual business direction, the farm also grows a tiny amount of Braeburn, mainly for pollination.
All the farm's apples are stored on-site, packaged in Kent and supplied to M&S and Waitrose.  They are marketed by World Wide Fruit, which is jointly owned by the Fruition producer organisation and Turners and Growers in New Zealand.
Climatic challenges
At the time of our visit at the end of October, the harvest was still underway. It begins with Suffolk Pinks at the end of August and progresses through the different varieties – the Jazz harvest starts at the end of September/beginning of October; while Braeburn begins in mid-October – until the final varieties, Pink Lady and Envy, are picked in the last two weeks of October, concluding in
mid-November.
Although heat and water were among the  main challenges the farm faced in summer 2022,  the hot weather resulted in some very high-quality fruit this harvest. "Taste-wise the UK crop this year should be really good, because the sun levels encouraged high sugar levels," Jeremy noted.
Another advantage of the more modern varieties found at Braiseworth, is that they tend to be better adjusted to hotter climates than say Bramley or Cox. Jazz, for example, was bred in New Zealand where light levels are much more intense, therefore it was able to cope better with the extremes of heat we saw in the summer.
With weather extremes increasingly becoming the norm and water being critical for apple growing, Braiseworth has a reservoir to capture winter rainfall to meet its irrigation needs. There is an opportunity to extract water in extreme conditions, but generally the winter storage is sufficient.
Winter tasks at Braiseworth
After harvest, the orchard is cleared up and tidied before the key planting time begins in November/December – when the soil is still warm and some seasonal labour is still available. Winter through to the following summer is also a key marketing time; with the varieties grown at Braiseworth, fruit is sold from August through to the following July. Other winter tasks include grubbing and monitoring stored fruit. Although winter is traditionally pruning time, with the specialist varieties grown at Braiseworth, most pruning is done in the spring.
Into spring, the focus moves solely to growing the crop. Bud burst and flowering times may vary by a week maximum depending on variety. Bud burst is primarily dictated by weather, which can influence when trees wake up by as much as six weeks. Flowering can vary by as much as a month depending on the weather but is generally the second and third week of April.
Quality is a top priority
All apples are hand-picked, and the farm has a very loyal harvesting team that returns to them year after year. Rather than piecework – paying workers for what they pick – Braiseworth's pickers are paid an hourly rate to focus on quality and a relationship of trust, rather than driving productivity, Jeremy explained. "I think it pays off because people want to come back year after year. We might not pick as fast as some people but we're really lucky to have a great team."
Looking to the future
With his World Wide Fruit hat on, Jeremy keeps a close eye on advances in robotic harvesting as well as his work on breeding programmes, looking at the apple varieties of the next 20 years. Whilst he believes technology is the future when it comes to harvesting, he feels the technology is not quite there yet. However, a couple of years ago he opted to purchase a new, mechanical assisted harvesting machine from Italian manufacturer Revo. It's a halfway house between traditional picking and automation – staff are still present and using their skills to assess which apples should be picked, but apples are moved on a conveyor belt from the picker to the bin. "It was a big investment for a farm of our scale but we very much think it's the right way to go," Jeremy said.
Most of the farm's machinery is bought new, often owing to the lack of available second-hand machinery, particularly when it comes to new advancements like the Revo machine. Among its fleet of six tractors, the main workhorse which does most of the spraying is changed every 3–5 years as they are heavily dependent on it; and there is also an ageing fleet of tractors that continue to perform a function at harvesting. As the horsepower for pulling larger cultivation equipment is not available, they use contractors or work with neighbours to carry out soil preparation.
When it comes to the apple varieties of the future, in addition to red flesh, Jeremy said the snack category will be important – including small apple varieties such as Rocket that are bought in a tube. Developing apples with a consistent, reliable eating quality that consumers will buy again and again, plus storability, are also key for the future of the sector.
Reducing pesticide use is another focus point, so breeding multiple disease resistance is an important part of current and future breeding programmes.