Shotley Vineyard: A small force of nature
Located in an area of outstanding natural beauty overlooking both the Orwell and Stour estuaries, Shotley Vineyard is a well-hidden treasure on the east coast of Suffolk.
Grower profile:
Total vineyard size: 16 acres including managed land, with just over 15,000 vines
Soil type: Clay cloam, plus a few sand pockets
Aspect: Most is south-facing, although some is north
Varieties: Rondo, Bacchus, Pinot Noir, Chardonnay, Auxerrois, Seyval Blanc, Ortega, and a tiny bit of Reichensteiner. The Bacchus is split across three different blocks, due to the ages of the vines – planting stated in the late 90s, then the last of the Chardonnay went in in 2010. The rest of the varieties are pretty much located all together.
Charlotte Davitt-Mills and her husband Craig purchased four acres of land on the Shotley peninsula in 2017, after falling in love with the beautiful setting and views and believing it would be the perfect site to begin a glamping venture. However, this idea was temporarily put on the backburner when Charlotte realised the true potential of the 24-year-old vines on the land.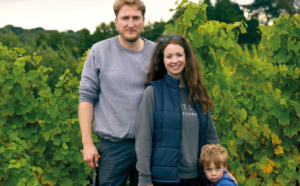 Care and attention
The original vines hadn't been properly looked after for a long time, hence the couple's initial reticence to continue the vineyard. However, after being told the vines were remarkably healthy, Charlotte begain researching viticulture to see if it was something worth pursuing. An initial "bit of research" turned into many hours learning about vineyard management, and Charlotte realised how much of an opportunity it could be. In fact, she became so passionate about the vines, that she decided not to return to her previous job at the end of her maternity leave, and instead focus on the vines full-time. The couple then took on the management of other local land under vine, and Shotley Vineyard was born – covering a total of 16 acres, including the rented parcel.
The last two years have seen a harvest of around 29.5t per annum – a significant increase from the initial yield of 5t when Charlotte first took over the vines five years ago. The second harvest yielded a little more, but as they'd had to hard-prune the vines, it limited the overall figure quite a bit. In 2020, yield was around 29t and earlier in 2022, Charlotte was hopeful that this year would see a yield of over 30t. Unfortunately, due to the record-breaking temperatures over the summer, final yield came in at 22t – but Charlotte says while it was lower than hoped, the quality of the grapes was exceptional, and this was confirmed by the winery.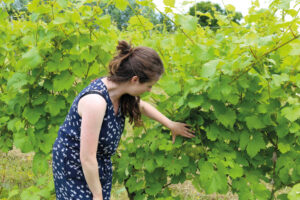 Charlotte believes the maximum tonnage the vines (as they currently are) could yield is around 35t, so all-in-all they're doing well.
Charlotte puts this success down to the high level of care and attention given over the last five years – particularly the fact that they use the gentle pruning method in order to look after the vines properly and prevent trunk disease.
"Last year, it took from December through to the end of February to complete the pruning. I feel you really have to get the pruning right, as it sets the tone for the rest of your season," she explains.
"We advocate hygienic practices around the vineyard – for example, ensuring secateurs are cleaned properly, and when we first took over the vineyard, we removed all cuttings and burned them to keep it all as clean as possible. However, now we are on top of disease through management and a good spray programme, we have started mulching the cuttings instead to improve the soils further."
Long term, some areas of vine are in decline slightly, and Charlotte has in her mind that she never wants to drop below a certain tonnage in order for the business to remain viable. There may be some infill planting in the near future, likely with the same varieties, and Charlotte has been having ongoing discussions with her vineyard consultant about potentially planting up another field as well.
For Charlotte, Bacchus is what she considers "the gateway grape" – in that for those making their first foray into drinking English wine, Bacchus has quite a similar profile to Sauvignon Blanc so appeals to this audience. Shotley Vineyard produces its own Bacchus, and finds it's one of its most popular bottles.
As well as Bacchus, Shotley Vineyard produces still red Pinot Noir, and a Charmat-method sparkling wine which uses a blend of Chardonnay, Auxerrois, Seyval Blanc and Reichensteiner. It's a field blend, with all being picked on the same day, meaning there is a mix of ripe and not-so-ripe, allowing Charlotte to retain the perfect level of acidity for the Shotley sparkling wine.
Bud burst for the Rondo this year was around mid-April, with the other varieties around a week later. Veraison was earlier than usual, at the start of August and harvest was due to be completed by mid-October.
The Rondo is harvested based on its acidity rather than sugar content as it's picked for sparkling wine, so Charlotte watches the acids and picks slightly early compared to harvest for still wines.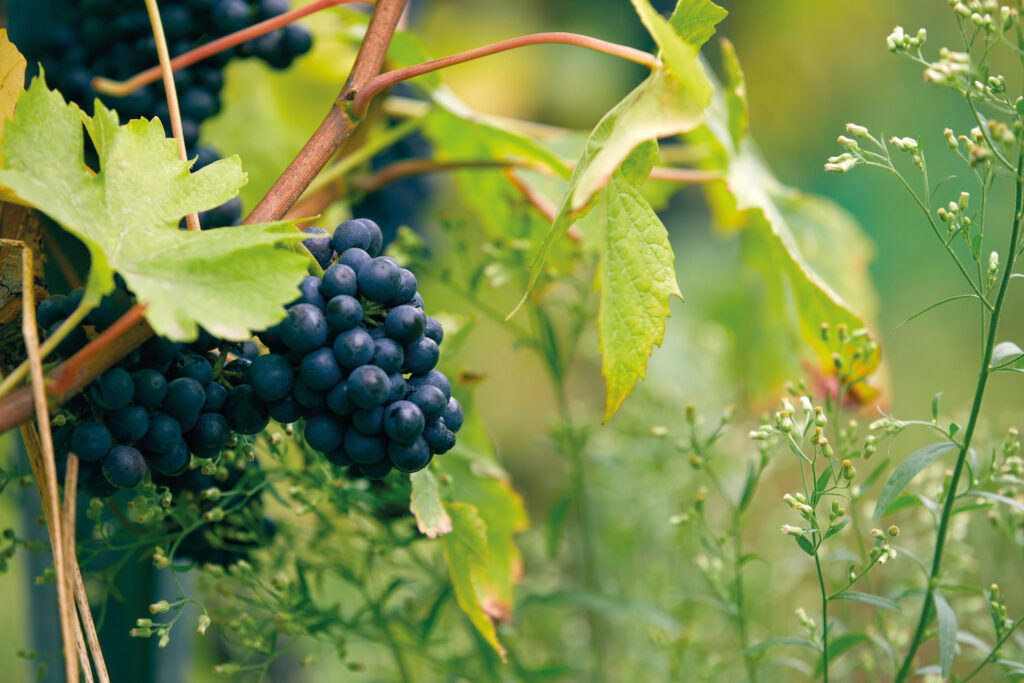 Disease management
Predominant disease pressure is caused by the mildews, with botrytis rearing its head as the season goes on.
This year, disease pressure across the whole country has been low; especially compared to last year, where downy mildew was widespread across the south of the country, due to the wet conditions – leading to some vineyards losing up to 90% of their crop. However, moving into Suffolk and Norfolk, it was the powdery mildew that hit these more northerly growing areas hard. Fingers crossed, this year the fruit has remained pretty much disease-free, thanks to both the weather and careful disease management.
Shotley Vineyard uses conventional farming methods to control diseases and maintain  vine health, and tend to follow the Agrii spray programme as needed depending on the pressures – although they are keen to stress they try to only use what is needed for the season, rather than going full pelt. Bio-stimulants have  also been used more recently to reduce the ag-chems used, as well as foliar feed.
While not a member of Sustainable WineGB yet, the vineyard is mindful of what they do, ensuring they use as little diesel as they can, extending spray windows when pressure allows and so on.
They use an Airblast sprayer, which was purchased last year, and all staff have been trained on it, allowing them to bring this in-house rather than using a contractor. The site had been fully managed at first, but now Charlotte manages it herself with advice from a consultant as needed.
Pest-wise, wasps have been a problem in the past, especially in the drier years – so the wasp traps came out earlier this year given the hot, dry summer. Charlotte was keen to avoid the awful wasp issues of 2020, where pest damage was significant.
Starlings cause some problems, although a local red kite has been keeping these at bay recently.  Badgers, however, appear to enjoy a grape or two in the evening, so these require some managing – particularly as they became used to having the run of the vineyard before Charlotte took it over,  when they could frequently be seen shooting out from the overgrown vines in all directions.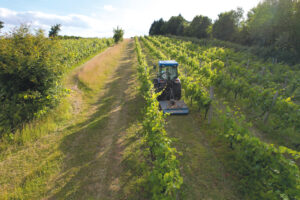 Equipment struggles
Charlotte purchased a second-hand New Holland T40N tractor from Double Days in Lincolnshire within the last year. She is looking to build up the vineyard's machinery collection, but comments that used vineyard machinery is like gold-dust right now, with any that comes up for sale being snapped up by European vineyards and shipped out of the country. This, Charlotte says, is one of the big issues for vineyard managers – as there's also up to an 18-month waiting list for many new vineyard tractors, primarily as a result of steel shortages for the primary Italian manufacturers. On top of this, there's been a global shortage of glass, as well as the wire for wine bottle cages, which is predominantly sourced from Mariupol; so long lead times mean that the focus on dry goods – which are usually not thought about until after harvest – are having to be dealt with much earlier, she commented.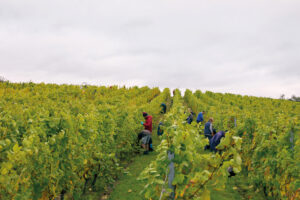 Local help for harvest
As a result of the pandemic impacting on the availability of experienced pickers from Eastern Europe, who would usually work with all the local vineyards at harvest time, this will be the third year in which harvest is done using local help.
To find pickers, Charlotte advertises on the local social media groups, and over the last couple of years she has managed to build up a reliable roster of locals who are now quite experienced in grape harvesting.
During the pandemic, training new pickers was tricky due to the need for social distancing, as well as constant sanitisation of equipment – although fortunately, this year things have gone almost back to 'normal'.
According to Charlotte: "A lot has to come together in order to choose the pick day; the logistics are tricky – you need to get the ripeness and acidity levels of the grapes right, have a
team ready to pick it, a lorry available to take it, and the winery having the room and the labour to take it. It's a delicate balance and requires meticulous planning and the ability
to react quickly."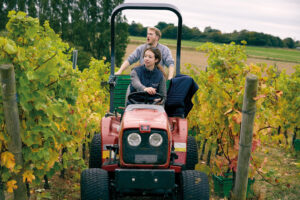 Keeping on top of the vineyard
Charlotte manages both the viticulture side and the hospitality part of the business, along with the back-office duties. She has a full-time  apprentice working with her, and also employs local lady Mary, who Charlotte describes as being  "like a machine".
Mary has lived locally since before the vineyard was first planted, and is the longest-standing member of staff as she'd worked with the previous owners. Charlotte has found this   particularly helpful, as there was no handover following the purchase of the land, so Mary is able to provide insight into the practices that were previously carried out on the vines. She carries out various vineyard jobs, including canopy management, bud rubbing and walking the vineyard most evenings.
One area Charlotte is keen to improve is the trellising. It had been very neglected when she first purchased the vineyard, and she has since added further top wires now that the health and vigour of the vines are improving.
Canopy management is a critical part of the vineyard's disease management strategy. They start by tucking in, then lifting wires as needed. Following flowering, they carry out leaf stripping – both to enable good air flow and also to ensure good ripening.
A front-mounted mechanical leaf stripper is used initially, then experienced labour is called in to neaten it up and take certain areas back a bit more as needed. This is particularly important near the hedge windbreaks, where leaf stripping needed to be more intensive to ensure good airflow within the vines.
Following the leaf stripping, the spraying takes place to ensure it provides the best possible coverage and avoids wastage.
Grass between the vine rows is kept under control using a trailed mower and a strimmer.
Before the vines were planted, the land had been left mostly fallow for a number of years, due to the slopes making arable planting difficult. The land was graded A/B at the time of purchase, so the soil hadn't been hugely depleted, but Charlotte has had some soil analysis done to evaluate what micro- and macro-nutrients are lacking.
Cover crops are being used to improve the soil health as a move towards more regenerative practices, with a mix of crimson red clover, phacelia, radish, birdsfoot trefoil and two types of grass being used – the main aim being some deep rooting options for soil structure, along with nitrogen-fixing species for obvious reasons.
Early investment
With such early success, Charlotte and Craig have already invested heavily into the business; commissioning a purpose-built barn which acts as the hub for wine-tasting as well as providing an area to serve refreshments including coffee and cake. More recently, the duo have branched into specialist events, including foraging expeditions, supper clubs, sparkling cocktail nights, yoga in the vines, tours and tastings, and even hosting weddings.
The first Shotley Vineyard vintage was launched in 2020, and their wine has since won awards; including a gold medal for their 2021 Bacchus and silver for their 2021 Pinot Noir at the WineGB East awards in August 2022 – the vineyard's third year vintages. The company also offers a second vintage English sparkling wine. The vineyard keeps around 7t for its own wines, and sells the remaining grapes to a number of other wineries across the country.
Shotley's wine is currently produced at Bolney Wine Estate in Haywards Heath, who also purchases some of the vineyard's grapes. This relationship carried over from the company who were managing the vineyard when Charlotte and Craig first took it on, and Charlotte has been happy with the relationship with Bolney as well as the quality of the wine produced, so it made sense for them continue working together.
Much of Shotley's marketing is done in-house via social media, particularly Facebook and Instagram, as well as via online wholesaler The English Vine.
Closer to home, it is stocked in the local award-winning local food hub, Suffolk Food Hall, where Shotley Vineyard's Bacchus has been the shop's best-selling wine for the last two years' running. In the past, Shotley Vineyard have also sold via smaller urban wineries.
Looking to the future, Charlotte is hoping to expand Shotley's wine range and introduce a rosé (possibly a field blend of Pinot noir and Ortega) as well as perhaps a traditional method sparkling wine.
The market for rosé is strong, with it being seen as a premium wine. Having bought some in for previous events which proved really popular, to Charlotte it makes sense to add a unique rosé to Shotley's offering – so watch this space.