Grapes: Exploring varieties for still and sparkling wines
The UK viticulture sector has changed considerably in the last 30 years in terms of landscape, climate and wine styles and the future presents further opportunities. Joel Jorgensen, viticulture director at Vinescapes, looks at three grape varieties; Pinot Gris, Meunier and Gamay, whose plantings are on the increase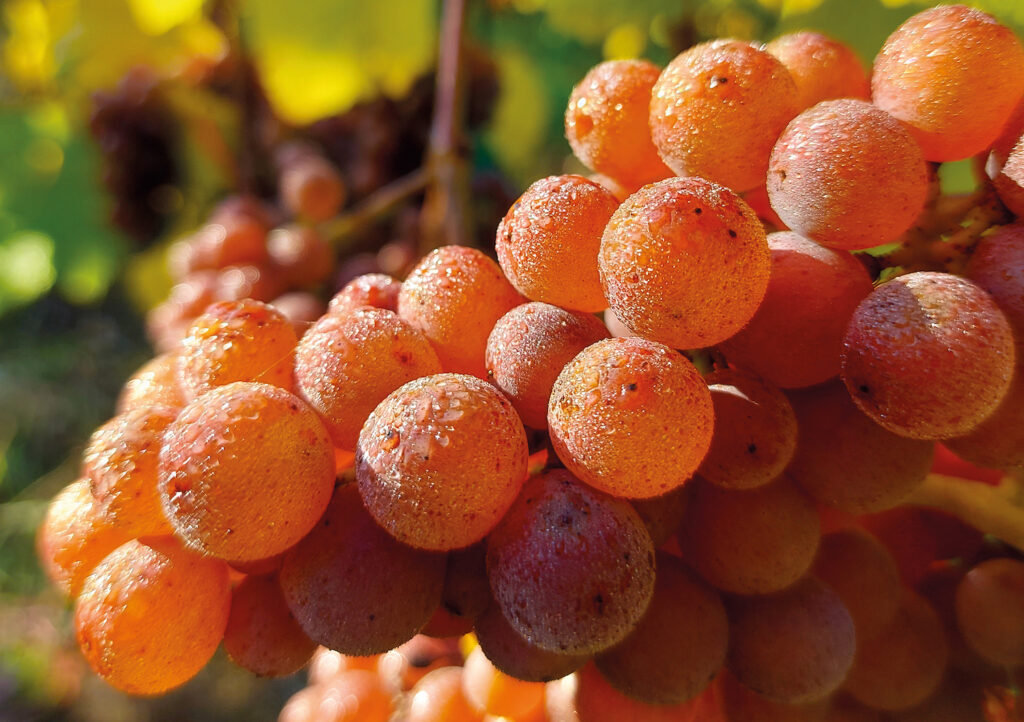 The vine varieties grown in the UK have changed over the years from the cooler climate varieties of the 1990s such as Müller-Thurgau, Reichensteiner and Seyval Blanc, to the 'Champagne' varieties popular today for sparkling wine, including Chardonnay, Pinot Noir and Meunier. According to research led by Vinescapes' Dr Alistair Nesbitt and the University of East Anglia, climate change is likely to see further changes in the next 20 years or so and in particular the opportunity for more still wines – produced from varieties such as Pinot Noir, Riesling, Sauvignon Blanc and Semillon, as well as the more disease-resistant varieties that are not yet commonly grown in the UK. The UK currently has flexibility to explore new varieties and styles, as restrictions and regulations are not as limiting as in other wine regions. This should help to avoid wine style lock-in and allow growers to adapt to future climate change. However, the UK is still a young wine-producing region and learning about variety response to terroir and UK growing conditions.
Gamay noir
Type: Vitis vinifera
Colour: Red
UK area: 2.49ha (Data: Stephen Skelton 2022)
This variety's original home is the Beaujolais and Loire regions in France, but it is steadily growing in popularity in cooler climate regions including Canada, Switzerland, New Zealand, and Oregon. There are currently 2.49ha in the UK and more plantings are expected over the coming years.
Biddenden Vineyard in Kent planted Gamay Noir in 1985 after co-owner Julian Barnes spent some time working in the Beaujolais region. The block is currently 1,000 vines, covering half an acre. In the past it hasn't been a very reliable variety in the UK, and Biddenden have only been able to fully ripen and make a single varietal Gamay Noir still wine six times during this time. However, the last three successful vintages were 2018, 2020 and 2022. Julian's son Tom Barnes explains this is partly due to climate change, but also the agronomy has improved with a greater understanding of how best to manage the vines for red still wine production.
Tom explained that the Gamay is the first to flower, but the last to be harvested and needs to have the right conditions to achieve ripeness after veraison. The wine is made by the same method that is used in Beaujolais, using the carbonic maceration technique – but they say they are not tempted to release a Nouveau-style wine! The production is limited to around 3,000 bottles per vintage, but it is packaged in a tall, elegant bottle and sells well.  Biddenden is a favourable site; a sun trap with gentle slopes on sandy loam over clay. Along with Gamay, Biddenden also grow Riesling and Gewurztraminer and, as the climate warms, may consider planting more Gamay in the future.
Pinot Gris
Type: Vitis vinifera
Colour: White
UK area: 54.44ha (Data: Stephen Skelton 2022)
Pinot Gris, also known as Ruländer, or more commonly, Grauburgunder, currently represents 1.49% (Data: Stephen Skelton 2022) of the planted area in the UK. It is well-known as Pinot Grigio, grown widely in Italy. It is thought to be a clone of Pinot Noir and the fruit usually has a distinctive grey-blue colouring, with pinkish hues when ripe.
Chartham Vineyard in Kent planted 1,900 Pinot Gris vines, clone GM27 on SO4 rootstock.
The owners, Richard Goodenough and Ros Waller knew and liked the variety, and it has turned out to be a great success, as their south-facing, well-drained site with chalky loam soil seems to suit the variety. It produces a consistently good yield, and ripens well, and the owners find it reliable, easy to grow and manage – compared to their Pinot Noir and Bacchus – and not particularly susceptible to disease.
Bud burst is similar in timing to their other varieties, but it remains on the vine longer and is usually the last to be harvested, achieving good sugar levels – in 2022 it reached 84 degrees Oechsle.
The owners describe their award-winning wine as fresh green apples, blossom, honeysuckle, and pineapple; fresh with good acidity and a perfect aperitif.
Meunier
Type: Vitis vinifera
Colour: Red
UK area: 324.46ha (Data: Stephen Skelton 2022)
Jonica Fox, co-owner of Fox & Fox, in East Sussex, first planted Meunier in 2004, and then increased plantings in 2010 and 2011 as she found Meunier to be an excellent variety, showing blackberry fruit flavours, depth and richness.
On their site, the Meunier is generally later to bud burst, probably 10 days to two weeks behind Chardonnay, but gains ground fast as it is then usually ready to be harvested about a week before Chardonnay. It is fairly vigorous, likes the damper ground and does well on SO4 rootstocks and clay soil, but as it is relatively vigorous, it needs careful management. With good management the variety ripens easily and crops well. As with most grape varieties in the UK, the yield is variable depending on the year.  With its dark coloured fruit, it can attract SWD, especially if cherries are grown in the locality.
Meunier is usually blended with Chardonnay and Pinot Noir in Classic Cuvée or Rosé sparkling blends, but Fox & Fox produce a 100% Meunier sparkling as they feel the grape deserves more attention and a chance to be tasted in isolation. It has gained many gold awards – with its rich dark fruit flavours, including plum, blackberry and blackcurrant and the chalk contributing some salinity.
About our author
Joel Jorgensen, Vinescapes director and viticulturist, grew up in the Cape Winelands of South Africa and viticulture has been a life-long passion of his. He gained a BSc in Viticulture and Pomology from Stellenbosch University before being drawn to the UK's flourishing and rapidly expanding wine industry. Joel is a self-proclaimed "vine nerd with muddy hands" and a passion for sustainability in all senses of the word. He strives to create the perfectly balanced vineyard and a healthy natural system that will deliver a quality crop every year and provide a sustainable return on investment.