North Norfolk Food and Drink Festival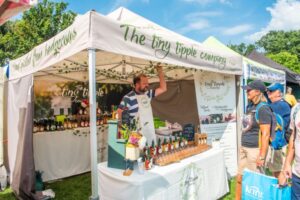 Coming into it's 14th year, the North Norfolk Food and Drink Festival has grown into a highly successful event with visitors from across the county and beyond in attendance. Featuring an ever-growing team of local food and drink producers who grow, rear, produce, supply and sell food in North Norfolk.
The festival takes place in the spectacular setting of the Walled Garden at Holkham Hall. Historically filled with vegetables and flowers grown for the Hall, nestled within huge brick and flint walls that offer protection from the elements, they made for an ideal setting to celebrate the abundance of Norfolk.
The Malt Coast Brewery Bar will serve local wines, spirits and cocktails created especially for the festival, as well as over 70 exhibitors tempting visitors with their local produce.