100% electric 4×4 utility vehicle arrives in UK
Corvus has introduced a new electric 4×4 which it says is capable of successfully tackling the toughest working days thanks to its off-road capabilities.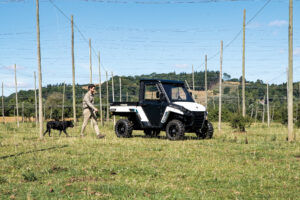 The engine is a 13kW AC induction 48V motor capable of hauling a payload capacity of 620kg and the EX4 has a towing capacity of 755kg in low and 479kg in high. The cargo box is steel with a 300kg load capacity and there is more space for you and your gear with a front storage boot and convenient under seat storage.
The Terrain EX4 achieves 25mph and can be driven on roads. It offers high load capacity, low maintenance and high vehicle durability with the precision power needed for smooth or rough terrain, according to Corvus. There is a dual power selector for 'Range' and 'Power', which allows you to select electronically the right driving mode for the most demanding jobs. The 15kW lithium-ion battery on the EX4 is designed for quick and convenient charging.
All Terrain EX4 models are approved to EU T1a standards and equipped with automotive safety windshield glass, three-point belts, indicators, headlamps and brake lights, horn, mirrors and windshield wipers.
There are three versions of the Terrain EX4 with a cab and other accessories available. Boss Off-road Vehicles Ltd has a dedicated UK commercial sales team and extensive dealer network to assist with the purchase of the vehicle.