Proven design, new application
A Kent-based contractor who specialises in vineyard establishment and maintenance has invested in one of the first new Weaving Vineyard drills to establish cover crops and herbal mixes for his customers this year. David Williams saw the machine working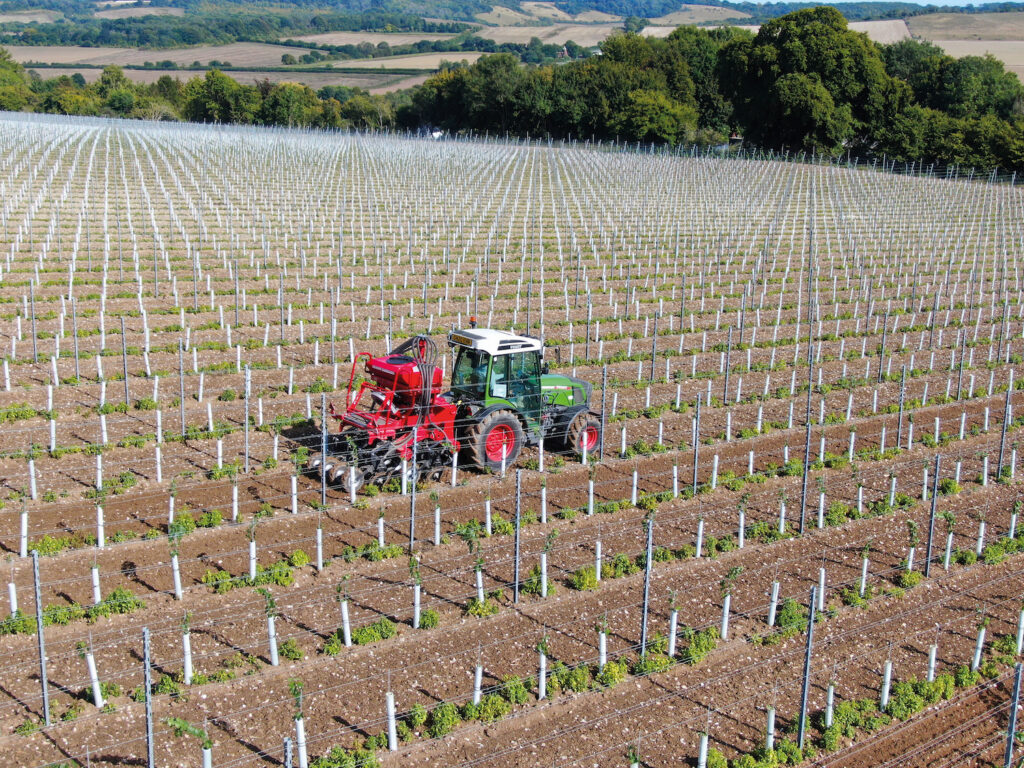 Sam Barnes grew up on his family's vineyard, which was planted in 1969, and continues to assist with the management, working with his brother and parents. He started his own business in 2017, trading as SJ Barnes Ltd, and operates from a base at Biddenden providing a specialist contracting service for vineyards throughout the UK. Vines are imported from France and Germany, and his four-man team has planted more than half a million vines for grape producers in 15 counties this year.
Specialised services
As well as supplying the vines, Sam helps plan and layout the vineyards, and supplies and erects fencing, as well as post and wire trellises. His fleet of specialist machinery includes two trailed grape harvesters – the first bought in 2019, and the second one last year because of rapidly increasing demand. Four Fendt narrow vineyard tractors are operated, as well as a John Deere used for spreading compost in vineyards and orchards, and a JCB Fastrac does the vine planting.
"We operate specialist machinery that most vineyards couldn't justify owning, so it makes sense to use our services and have access to the best equipment available," explained Sam.
Grass and cover crop seeding
"Much of our maintenance work is establishing, maintaining and repairing grass and cover crop strips between the vine rows, and we built our own combination power harrow drill with a mounted air seeder several years ago especially for the task," explained Sam. "It works well, but in recent years increased use of complex seed mixes highlighted limitations of its air seed delivery system, as seeds of different sizes and densities became separated in the air flow,
and very light seeds just bobbled around."
To improve compatibility with a wider range of seed mixtures, Sam purchased a Weaving Magnum last autumn to replace his current seeding unit. However, he quickly realised that a better solution would be to invest in a complete drill which was purpose designed for the job. "Fitting the Weaving seeder to our existing power harrow drill base would have worked, but I discussed with Weaving Machinery sales director Simon Weaving whether there was anything more suitable that he could offer. He was keen to help, and the solution he proposed was a bespoke narrow version of the Weaving Mounted GD Drill – which was basically the standard drill cut in half with nine coulters
and a 1.5m seeding width."
Into full production
Sam's Weaving drill proved successful and, in response to growing demand for specialist vineyard machinery, Weaving has put the drill  into production, and it is now available to order.
The new Weaving Vineyard Mini GD Drill is described by the manufacturer as the 'little brother to the Mounted GD Drill', and the seeding coulter design is identical. There are two versions – in 1.5m and 2.0m working widths, both with 166mm row spacing and adjustable coulter pressure up to 200kg to ensure effective penetration even into dry, hard ground.
The proven GD double-disc coulters achieve minimum surface disturbance. A large diameter angled outer leading disc cuts an opening, and a slightly smaller inner disc lifts a flap of soil and holds it while the seeds are dropped below. As the machine moves forward, the flap is released onto the seed, and a following press wheel closes the flap and seals the
slot – retaining moisture and ensuring effective seed to soil contact. The versatile design allows direct drilling into existing grass and cover crops, or it will perform just as well establishing crops into pre-cultivated ground. Each pair of discs is mounted around a central pivot pin, allowing the coulters to pivot to avoid obstructions and to follow the direction of  travel.
Sam's drill has been used for seeding in  a wide range of situations, including short grass where the lack of surface movement and effective press wheel action means it is difficult to see where it has been.
Flexible design
Sam has been using his Weaving drill for almost a year, and its flexible design which allows drilling direct into existing vegetation or into pre-cultivated ground has proved a big advantage. "Since investing in the new drill, there have been many situations where we have been able to drill straight into the existing vegetation, avoiding the need for pre-cultivation.
"We have kept the power harrow drill as there are situations where that gives us an advantage. Vineyards are naturally a controlled traffic environment in which the wheelings remain in the same place year after year," he said. "In time ruts develop, and we use the power harrow to redistribute soil and create a level surface, then we plant the grass or cover crops into the loose soil using the new Weaving drill."
High work rates
On the day of Fruit & Vine magazine's visit, the drill was establishing a wildflower and herbage seed mix containing 27 varieties of seed between the vine rows of a large plantation in mid-Kent which had been planted by Sam's team earlier this year. The vines were planted 1.0m apart, in rows spaced at 2.2m and up to 280m long. Accurate RTK guidance had been used during planting to ensure rows were perfectly straight – creating ideal conditions for the Weaving drill to achieve high work rates.
"In this sort of environment  we can easily drill 8–10ha per day," continued Sam. "Work rates are considerably higher than we could have achieved using the power harrow drill, and our fuel consumption is lower too. The Weaving drill is well made and heavy which helps ensure effective penetration, but it's very easy to pull."Other advantages of the Weaving drill over the power harrow-based seeder include lower wear rates when operating in stony ground. "Many of the vineyards we look after are on flinty soils and the Weaving drill's disc coulters suffer less wear and pivot to work around obstructions which reduces the risk of breakages," added Sam.
User-friendly
The new drill has worked with a wide range of seed mixes during its first year's use. Each mix requires a new calibration but the main user, Will Barnes, said the process is quick and easy. The speed of the hydraulic-driven fan has a wide range of adjustment to suit seeds of all sizes and densities, and a rubber exhaust boot at the top of each coulter allows excess air flow to be discharged while the seed free falls directly into the slot created by the discs.
The 300-litre hopper holds enough grass seed to plant 3–4ha, and an Artemis Lite metering system with RDS control and automatic rate management by GPS speed monitoring, ensure the correct rate is used. Extra high seed rates are available by altering the gearing, but the standard setting has been suitable for every situation so far.
Simple and reliable
Will Barnes is the drill's main operator, and he commented that he likes the simple, reliable design and excellent build quality. "If anything, it is over made, and we like that as it means it will last well and put up with intensive use. It's easy to set up and look after, and the folding rear steps provide safe access to the hopper for checking and filling.
"We've used it in a variety of conditions including hard and soft soils, and we have never had a coulter blockage. The coulters themselves are no trouble – they pivot around obstructions, and because they move independently their contour following capability and depth control is superb. Additional weights can be added, but we haven't needed them
so far."
Stitching in
"To give crops the best start and achieve optimal establishment, seeds must be placed at the ideal depth, and they need effective seed-to-soil contact. The new Weaving drill achieves this in a wide variety of working conditions," concluded Sam. "We are achieving significant time and cost savings, but these aren't only due to the higher working speed. Previously relying on the power harrow drill – we usually had to carry out additional operations including spraying off the existing vegetation, then cultivating, drilling and rolling, whereas the Weaving drill requires only a single pass in most situations to achieve successful plant establishment.
"One of the most impressive features of the Weaving drill is its ability to improve grass areas. Where vineyards have been maintained in good condition, we have been able to retain the existing surface structure and just stitch the grass in. The technique works well and the results are impressive."
Great investment
Sam said that he is very pleased with his choice of drill. "The Weaving Vineyard Mini GD Drill works well and achieves excellent results in a wide variety of conditions. Reduced soil disturbance helps reduce moisture loss, and seeds are placed into an ideal environment to establish successfully.
"For most situations the Weaving is the best option, but retaining our existing power harrow drill gives us added flexibility and means we  can offer whichever solution is best for our customers."