Wine students can apply for new £5,000 sustainability bursary
Leading rural insurer NFU Mutual has launched a £5,000 sustainability-focused bursary for wine industry students. The bursary will be awarded to a student at Plumpton College pursuing their final research project on a sustainability issue facing British vineyards.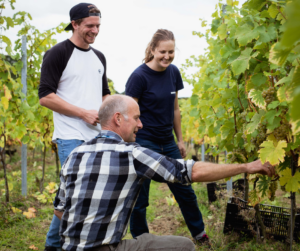 The Enhancing Vineyard Sustainability Award is the first of its kind and will be awarded to a final year MSc student at Plumpton College studying Viticulture and Oenology.
The award will provide £5,000 towards travel and research costs to support a student pursuing a research project on a sustainability issue facing UK vineyards.
The objective of the substantial award is to promote the next generation of 'movers and shakers' coming through Plumpton College, a renowned centre of excellence for teaching and research in viticulture.
The award is open to all students in their final year at the East Sussex college. The successful applicant will need to address the contribution their project makes toward vineyard sustainability in the context of the UK wine industry and present their findings to the annual Plumpton College Industry Research Symposium in 2024.
David Harrison, viticulture specialist at NFU Mutual said: "We are proud to be offering the first ever Enhancing Vineyard Sustainability Award to a student at Plumpton College. We are passionate about supporting the future of wine-making in the UK and ensuring that sustainability is at the heart of production."
Jeremy Kerswell, principal at Plumpton College, added: "We are thrilled that NFU Mutual has so generously offered this unique bursary. Sustainability is crucial to the future of the industry and this award will go far in developing research that will illuminate the viticulture sector across the UK and beyond."
NFU Mutual provides insurance and risk management solutions that meet the needs of those operating within the viticulture sector through every stage of the production process, from grape-growing and winemaking, to retail and wine tourism.
To find your local specialist viticulture agent, email: winegb@nfumutual.co.uk.