UK wine harvest delivers top-quality, clean fruit with excellent flavour profile in 2022
Fruit & Vine spoke to five British wine producers, who are expecting this year's wines to be among the top vintages following an excellent 2022 harvest producing top-quality, clean fruit.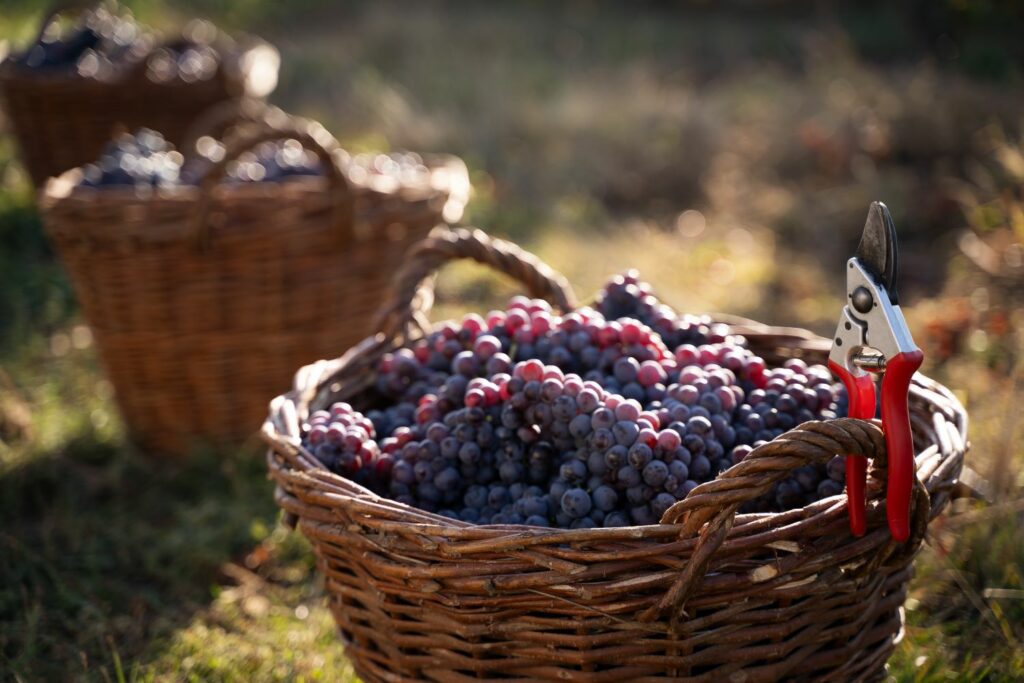 The exceptionally warm and dry growing season certainly favoured vine growers this year, with many reporting textbook sugar and acidity levels in harvested fruit. The owners of White Castle Vineyard in Wales were particularly pleased about the results so far, having always prioritised quality over quantity.
"Here at White Castle Vineyard, harvest to date has been good," said co-owner Nicola Merchant. "We have been fortunate to harvest in dry 17-degree plus weather conditions, and quality being sugar versus acidity has been excellent with clean fruit."
White Castle Vineyard is nestled among the rolling hills of Monmouthshire and is dedicated to producing a range of quality Welsh wines. In addition, owners Robb and Nicola Merchant offer wine tasting and vineyard tours to visitors.
Mrs Merchant mentions that while volume is down this year, the loss has been minimal due to a long dry summer. However, for a business that focuses on quality as opposed to volume, harvest so far has been great, she says.
"We started on 25th September 2022 with an early white grape variety Siegerrebe and have harvested three other varieties to date [on 17th Oct].
"We have one remaining grape variety to harvest which we anticipate to be in the next two weeks," she added.
Other than boosting fruit quality, the warm and dry weather also brought harvest forward in many vineyards. Dropmore Vineyard in Buckinghamshire began its harvest in mid-September, slightly earlier than last year.
"Aided by our regular wonderful gathering of friends, old and new, we whipped through the vineyard in double quick time, having a grand time, by all accounts, in the autumnal sunshine," owner Feona McEwan recounted.
"Now winter pruning looms […] and another year's cycle of vineyard life begins," she added.
The 2018 Sparkling Brut produced by Dropmore Vineyard has recently been awarded Best Overall Wine in the regional T&CVA Wine Challenge. Using Bacchus, Chardonnay, Ortega, Pinot Meunier and Pinot Noir grape varieties, the vineyard produces sparkling, rosé and still dry wines.
"Very excited about the potential for the 2022 vintage"
Nick Hill, owner of the 7ha Foxford Vineyard in the heart of Hampshire, has high hopes for this year's vintage following a remarkably successful harvest despite challenging weather.
"We harvested our Chardonnay, Pinot Noir and Meunier grapes at Foxford the last week of September. It was an exceptional harvest for third year vines, which after some early season frost damage coped extremely well with the summer heat and drought stress."
He added that the arrival of rain at the end of August and early September was most welcome at the estate. "The fruit was very clean at harvest and the base wine, which finished primary fermentation last week, has great fruit flavour and strong aromatics."
Foxford Vineyard grows Chardonnay, Pinot Noir and Pinot Meunier grape varieties and is committed to producing high-quality English wine.
Meanwhile, the large wine production enterprise Nyetimber is expecting to harvest a record volume of grapes this year. With 11 vineyards in its ownership, the company has the highest hectarage under vine in the UK, no less than 325ha (803 acres) across West Sussex, Hampshire and Kent.
Despite the intense heat and lack of rainfall this summer, Nyetimber expects grape quality to be excellent with more than 1,600 tonnes of fruit to be harvested in 2022. This volume will produce well over a million bottles of sparkling wine, which accounts for more than 10% of English wine production.
Commenting on the harvest, Nyetimber head winemaker, Cherie Spriggs, said: "Given Nyetimber has been in existence for 35 years, we have the experience to make the most of the climate in which we grow our grapes.
"We expect a record volume of grapes to be picked from what is the largest area of vineyards ever harvested by Nyetimber and most importantly, the quality of the fruit looks fantastic which is very exciting."
With international demand for English wine on the rise, the company aims to produce up to 2 million bottles a year by 2026.
"Quality looks exceptional, but patience is required"
James Lambert, managing director and head winemaker at Lyme Bay Winery, provided some insights into the state of different grape varieties leading up to harvest.
"The 2022 harvest is shaping up to be one of extremely high quality and ripeness, though it is not necessarily all early, relative to previous years," he said.
According to Mr Lambert, the lack of rain caused Chardonnay grapes to reach physiological ripeness early and were picked two weeks sooner than usual for still wines. Whereas, acids in the variety fell faster and lower than normal, potentially due to a faster reduction in tartaric acid, resulting again from lack of rain, he explains.
As for Pinot Noir (for still wines), the variety is already very high in sugars, but Lyme Bay feels like physiological ripeness needs a week or two to catch up.
"We'll see very high potential alcohol levels this year for reds for those who maximise hang time for phenolic ripeness. Quality looks exceptional, but patience is required," Mr Lambert remarked.
"For other varietals like Bacchus, they have really bounced back in terms of yields and quality this year, after a more challenging year in 2021 where they were affected by downy mildew," he added.
Located in Devon's beautiful Axe Valley, Lyme Bay Winery is a small company producing award-winning English still and sparkling wines, fruit wines, ciders, meads, spirits and liqueurs.
All in all, the team at Lyme Bay Winery expect 2022 to be a very good vintage for all wine styles, especially if winemakers pay attention to ripeness indicators other than just sugar levels.
"I would describe the quality as excellent"
Following a near-perfect growing season, the team at Gusbourne Estate is very excited about the wines to come out of this year's harvest. Commenting on the condition of the fruit, Jon Pollard, Gusbourne chief vineyard manager said: "From a grower's point of view, I would describe the quality as excellent."
Founded by Andrew Weeber in 2004, Gusbourne says it is committed to producing the finest English wines from grapes grown exclusively at the estate's own vineyards, located in Kent and West Sussex. Using high quality Chardonnay, Pinot Noir and Pinot Meunier varieties, the winery has crafted several award-winning sparkling and still wines.
Harvest at Gusbourne Estate began on 18th September and concluded on 11th October. The quality of the fruit harvested reflected the warm and dry growing season that caused major issues in domestic gardens but was hugely favourable to vineyards.
"Throughout the season, from a nutritional point of view, the vines were in excellent leaf condition and had good levels of vigour. The dry weather also ensured that disease prevention was relatively straightforward; we encountered very little disease," Mr Pollard said.
He also reported a very smooth harvest lasting a total of 13 days in Kent and 12 days in Sussex. All grapes were hand-picked by experienced local helpers and inspected before being transported to the winery.
According to the estate's harvest report, the excitement in the winery was palpable following the arrival of this year's fruit. "We're feeling very positive about the vintage, from both a still and a sparkling point of view," said Charlie Holland, chief winemaker at Gusbourne.
Laura Rhys, Gusbourne master sommelier, also expressed her excitement about the results so far:
"Having tasted through some of the base wines as they're fermenting, I think 2022 promises to be a terrific year, with base wines showing intensity and weight, character and energy," she said. "I'm really excited to see how these base wines show when the grading process starts next year."
Thanks to the superb growing season, the team at Gusbourne anticipates the 2022 vintage to rank amongst the best, up there with 2014, 2018 and 2020.