UK breeders sceptical over controversial white strawberries
The recent launch of White Pearl strawberries that 'taste like pineapple and vanilla' in M&S Foodhalls was met with scepticism by UK breeders and controversy among the public who have expressed concerns over the origins of the fruit.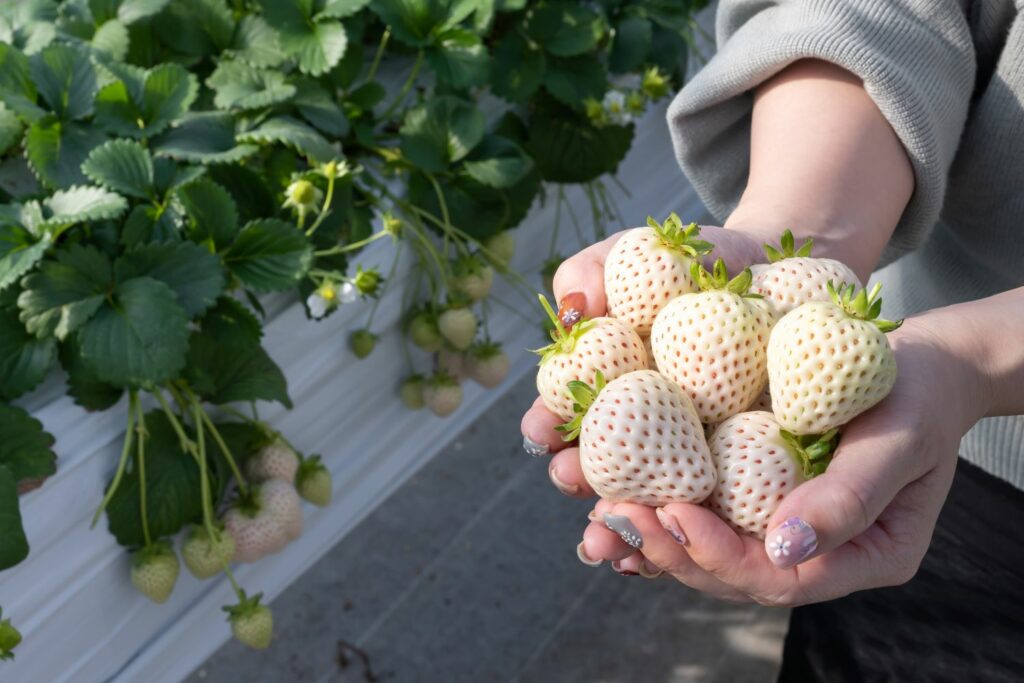 The peculiar strawberry variety arrived in Marks & Spencer stores on 17 January, with the retailer claiming to be the first on the UK high street to launch the fruit.
The strawberries are white on the inside and outside with red seeds and have been described as "sweet like a red strawberry, with an aroma of pineapple and notes of vanilla" by the retailer.
M&S has previously launched unique food items such as Candy Floss Grapes, Baby Kiwi Berries, the Orange Candy Melon and the Limelon, a hybrid between lime and melon. The White Pearl strawberries add to the selection of fresh produce found exclusively in M&S Foodhalls for a unique shopping experience.
"We love to be first to market and introduce products that no one else can," said Tom Pedley, M&S strawberry buyer. "Our customers get really excited when we introduce new flavour produce or hybrids.
"We're known for our Candyfloss Grapes, while the Limelon was all over the news so that's why we had to bring the White Pearl strawberry to M&S. Not only does it have a really unique flavour but it's incredible to look at. Plus, it's great for kids: who doesn't want to try a reverse strawberry?"
While the retailer is expecting a high demand for the novelty fruit, the launch has sparked controversy among the public so far. Some shoppers find the colour of the berries off-putting, others have called the origins and credibility of the variety into question on social media.
Putting consumers' minds at ease, M&S explained the White Pearl was naturally developed in Japan by crossing Japanese white strawberries with traditional red varieties to create the right size and quality.
Meanwhile, UK strawberry breeders are sceptical over the viability of white strawberries in the wider soft fruit market. Grower Nick Darby from Beeren Plantproducts believes the White Pearl will be of little interest to British growers as it's an imported variety that would be difficult to produce commercially in the UK climate.
"I have no doubt there's a niche market for them and there are M&S shoppers who will be prepared to pay a premium to have something different," he told Fruit & Vine.
Currently retailing at £4 a punnet, the new Collection White Pearl strawberries command a higher price than their conventional reverse counterparts.
"As a premium-priced product, they are not going to replace traditional strawberry sales and I doubt that there's a place for them on the shelves of the main grocery supermarkets," Mr Darby remarked.
"White strawberries are nothing new but have never been of much commercial interest. If anyone wants to grow some at home, then there's a variety called Snow White (bred in Germany) that will happily produce fruit in the UK and is available from a number of sources.
"However, it can be a little soft so is unlikely be suitable for the UK supermarket trade – more PYO and farm shop."
Adam Whitehouse, project leader in strawberry breeding at NIAB, confirmed white strawberries have little history in British soft fruit breeding to date.
"We did develop some white strawberries several years ago, one of which found a market in the amateur gardening sector. We are of course interested to see how this product develops and how customers react."