Top tips for diversifying into viticulture
Diversification from traditional farming practices affords many opportunities for improving the economic viability of many farm businesses whilst benefiting the wider rural community by providing additional jobs and encouraging tourism. VineWorks head of retail, Cherry Constable, explains why viticulture could be a suitable diversification option.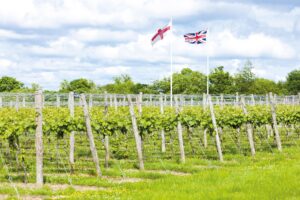 According to UK government statistics, 68% of farm businesses had some diversified activity in 2021/22, with the main activity being letting out buildings for non-agricultural use, followed by generating solar energy (though income from this remains small).
Climate change is creating opportunities in the UK to tend crops which were previously unviable due to our weather conditions – these include grapevines.
"With so much uncertainty and increasing financial pressure on farmers, now has never been a more important time to explore diversification opportunities," states rural insurer NFU Mutual.

Making the decision to diversify into grapes
The most successful farm diversification projects build upon existing assets, such as spare/convertible land or buildings which can be repurposed. The decision to diversify into growing grapes should start by assessing the land available and its suitability for cool climate viticulture.
Initial considerations should include:
assessing the topography
wind exposure
drainage
frost likelihood
location, access and storage
These can be analysed by gathering climate data and soil samples. The more information surrounding the physical land, the more precise, efficient and cost-effective your decision-making process will be.
Accessibility and storage will be vital for vineyard equipment and deliveries, as well as allowing potential for customers to visit. Planting a vineyard does not simply afford the sale of grapes as a crop, but can offer huge scope for developing tourism via a cellar door shop, tasting room and experience day tours.
Seeking correct permissions
Planning permission and council approval should be sought at the inaugural stage to ensure all authorities are aware of the change of land usage. Natural England protects rural land in England that's uncultivated or semi-natural from changes in agricultural activities. They should be notified if the land has not been cultivated in the last 15 years. As with all governing departments, this process can take a long time and should be factored into your timeframe.
Whilst researching your land's physical attributes, bear in mind any public rights of way, such as footpaths and bridleways. Public access can be beneficial and utilised for cellar door footfall and generating word-of-mouth promotional activity. However, pedestrians inevitably stray off local paths to have a closer look at vineyards, making signage and security an important aspect, (especially surrounding tractor and spraying operations).

Most important consideration
Quite possibly the most important consideration prior to planting a vineyard is confirming what you will do with the fruit. Although grapevines take three or four years to begin producing commercial quality fruit, contracts should be entered into in advance. Many farms diversifying into grape growing as a secondary crop will seek grower contracts with an existing winery/wine brand. If this discussion is started early enough, the winery may dictate which specific grape varieties they wish to be planted and can provide guidance for the ongoing care of the vineyard according to their own requirements.
Alternatively, if you are planning to use your fruit to launch a wine brand yourself, there are many steps to take, including enlisting a winemaker, (or building a winery and hiring a winemaker yourself) determining which styles of wine you wish to produce, (which will ascertain the grape varieties to be planted) and securing a distributor route to market. Many producers begin brand building before their own vines are fruiting, both by documenting the journey on social media/a website and/or by purchasing grapes so their wine brand can launch immediately.

Ongoing management
Ongoing management of the vineyard should also be considered in the preliminary stages. There are many options with a lot of transferable skills and equipment from existing farming practices, tuition courses available to hone your knowledge into viticulture specifically and vineyard management consultants and companies who can conduct site evaluations to either make recommendations or undertake the annual tasks with teams of skilled labourers.

Prime time to leap
With over 3,758ha under vine in the UK in 2022 and hectarage having more than doubled in just eight years, now is the prime time to join the blossoming UK wine industry. If you're contemplating the feasibility of converting some of your farmland to grape growing, get in touch with a vineyard establishment company who has long-standing experience in planting quality, certified vines, understanding soil composition/ground preparation and site selection. Your grape-growing journey starts now – one vine at a time.