Tinwood Estate: From salad to sparking wine
Tinwood Estate is a family-owned vineyard growing high-quality grapes that produce fine English sparkling wine. Located on the edge of the South Downs near Chichester in Sussex, owner Art Tukker has seen the parcel of land go through significant changes over the years.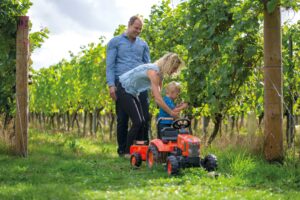 Grower profile:
Total vineyard size: 110ha, with 45ha under vine. The vines are split into four areas: House Vineyard, Oma's Vineyard, Ounces Vineyard and van Diemen Vineyard
Soil type: Flint, gravel loam soil layered
Aspect: Situated at the foot of the South Downs at an altitude of 35m, three miles from the south coastline
Varieties: A split of 50% Chardonnay, 30% Pinot Noir and 20% Pinot Meunier
Born and raised on this beautiful Sussex land in the hamlet of Halnaker, Art Tukker says he has been lucky to watch the views change dramatically over the years.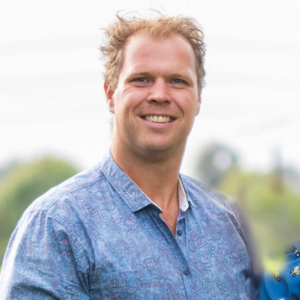 "Growing up, we were not looking out onto fields of vines like we do today; my mum and dad before me were iceberg lettuce farmers. Now, I live on the vineyard with my wife, Jody, and son, Jake."
In his early years, Art's father Aad, who was also the son of a farmer from the Netherlands, worked for Marks & Spencer travelling the world; he taught farmers to grow beans in Kenya, tomatoes under glass in Germany and salads in California. It was in California that he stumbled upon an exciting new salad crop called iceberg lettuce, and this is where everything changed, Art explains.
In 1983, a livestock farm which had been used for dairy cows became available in just the right spot, at the foot of South Downs in Sussex, close to the sea on Tinwood Lane – and this was where Aad started farming his salad crops.
Skip forward a few years, and in 2006 it was Art's turn to take the reins of the farm; by this time, the landscape had evolved so much that mass production farming and supermarkets were taking prevalence, Art thought that it was time for a change.
"While studying agriculture and farming at university, it dawned on me that growing vines could be my family's future. With this in mind, I packed my bags and, in 2005, moved to Marlborough, New Zealand.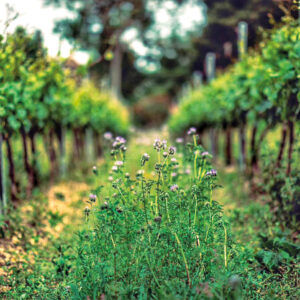 "Being fortunate enough to work in the vineyards in Marlborough, I worked closely with Mike and Claire Allen, who own Huia Vineyards. I owe them so much for sharing their fantastic knowledge over a glass of wine or two! Growing and nurturing Sauvignon Blanc and other grape varieties opened my eyes to the beautiful world of growing vines and producing wine.
"This was when I knew I wanted to convert the land from salad to vines and become a vineyard owner."
In 2007, Art started pulling out the lettuces and planted Tinwood's first 48,000 vines – a classic 'Champagne' blend of Chardonnay, Pinot Noir and Pinot Meunier spread across just over 11ha.
In 2008 more vines were planted, followed by a further 12ha in 2022, which means there is currently around 45ha under vine.
The enterprise is split into four separate vineyards; House Vineyard, Oma's Vineyard, Ounces Vineyard and van Diemen Vineyard, and the estate produces three Sussex sparkling wines: Blanc de Blancs, Brut and Rosé. Art has no plans to plant any other grape varieties currently.
Overall, Tinwood employs around 20 people all year round (10 in the office and tasting room, and 10 in the vineyard team) who all enjoy the same passion and strive to produce the best quality grapes possible from the land, but this number does increase during busier periods.

Weather woes – friend or foe?
The top layer of the site's soil consists of fertile loam, gravel, and flint. While the flint warms the soil by trapping the heat of the sun, at different points of the farm there are varying depths of chalk ranging from 50–300cm deep, which Art points out are very similar to the chalk found in parts of Champagne and Burgundy; providing superb drainage and making Tinwood an exceptional location to grow vines.
Art explains that while weather can be the vineyard's biggest friend, it can also be its biggest foe. "In 2012, we had a very dry winter followed by a very wet summer which, for us grape growers, were the wrong way round. We lost nearly the entire crop."
The main diseases affecting the vineyard are powdery mildew, downey mildew and botrytis, and the team has a preventative spray programme in place, based around sulphur and mancozeb.
"Spring frost is a constant worry, but we can mitigate this with our frost protection machines, and having a close proximity to the sea means we are normally just about safe," comments Art.
In the record summer of 2022, for the first time Tinwood saw some drought stress coming onto its vines. While the site has very free-draining gravel soils over chalk which benefits the vines in a wet summer, last year it led to smaller bunch size and ultimately a reduced overall harvest.
However, despite the yield being down, Art says the ripeness and quality of the 2022 vintage is the best the vineyard has ever seen, and reckons it will definitely be a wine to look out for in a couple of years.

A year in the vineyard
All vines at Tinwood Estate are on a double guyot, VSP trellising system, and are pruned by hand. The first wire lift is done by hand, and then the following lifts are done by machine. Vines are trimmed and leaf plucked by machine before being finished by hand.
The majority of the machinery used at Tinwood is manufactured by Provitis, and purchased from new via dealer Vitifruit Equipment Ltd.
Bud burst is usually at the beginning of April; the first grapes to do so are the Chardonnay. Veraison usually takes place in August, while harvest begins at the end of September or beginning of October.
The grapes are all harvested by hand. It takes around three weeks for 60 people to harvest the grapes, with seasonal labour provided by Vitis Care UK Limited. "The reason we harvest by hand rather than using a machine is that we want to only select the best grapes to produce the best quality wine," explains Art. Yield is usually 8–9t/ha, and Tinwood uses around 30% of the total tonnage for their own wines; the rest are sold to Ridgeview Wine Estate in Ditchling, Brighton, who use it in their own offerings.
However, all the grapes are delivered to Ridgeview initially, as Tinwood contracts its wine production to their onsite winery.
Art explains: "We have used Ridgeview as our winery from the beginning.
"Their core values align with ours, and with us both being family business, we have a good working relationship to produce the best possible wines; both for them, and for us."
Tinwood's sparkling wines are all produced using the traditional method.
In the winery
Immediately after arriving at the winery, the grapes are whole bunch pressed. The juice is left to settle, and yeast is added to conduct its first fermentation in temperature-controlled stainless-steel tanks. Art and a few members of the team taste these base wines with the winemaking team to decide which parcels of wine belong to which blend. Art explains: "The tasting of our base wines following the harvest gives us the first glimpse of the character and quality of our vintage wines."
These blends are then bottled with added yeast and sugar. The bottles then return to the cellars at Tinwood Estate to rest for a minimum of two years in temperature-controlled cellars. Once the wine is ready, they are taken back to the winery for disgorgement, corking, foiling and labelling before returning to Tinwood Estate again for the final stage of maturation.

Diversifications at Tinwood Estate
In 2012, with Art running the vineyard, his wife Jody Tukker opened the tasting room. They ran their first vineyard tour on 21st June 2012. Art explains: "We still remember having that same buzz about our first vineyard tour as the ones we do today. The passion and hunger to show people what we do hasn't faded; instead, it's grown.
"Often you will find Jody and me at the tasting room chatting with guests and showing them what we are up to currently in the vineyard."
Tinwood opened its overnight accommodation in 2017 to welcome guests from further afield to stay the night in the vineyard, which Art says soon became the perfect staycation – a rather unique experience for people to relax and enjoy Tinwood Estate wine among the vines in which the grapes are grown.
A number of special events are offered, including 'cinema' nights and harvest experiences, as well as vineyard tours, tastings, afternoon tea and seasonal dinner series'. There's also the annual Tinwood Summer Party, which offers live music, street food and, of course, Tinwood sparkling wine.
Future plans for the vineyard
When it comes to future plans, Art says: "We continue to expand the vineyard, with the latest planting in 2022. We are always on the lookout for new technologies, and ways of improving the growth of our vines.
"In recent years we have become much more conscious of our position within the environment. We make agronomy decisions with the environment at the forefront of our minds. We strive to leave the farm to the next generation in an even better state than it is today."
Preferring to work with nature rather than against it, no insecticides are used at Tinwood. In order to promote biodiversity, wildflower meadows, new hedgerows and trees have been planted on the estate. This year, a variety of wild flowers have been sown in between every other row of vines, including phacelia and sunflowers.
Tinwood also has a number of bee hives, and produces different types of honey throughout
the year.
"As a generational farming family, we believe in making decisions that will improve the life, the vitality of the soils and environment of the farm; not just in our own lifetimes, but for the following generations as well," Art concludes.