The 89th National Fruit Show set to be "the largest for a decade"
The National Fruit Show will feature a vast range of exhibitors from up and down the country and abroad, alongside a series of inspiring talks 'by growers for growers'. Executive chair Sarah Calcutt provides some information on what's in store at this year's event.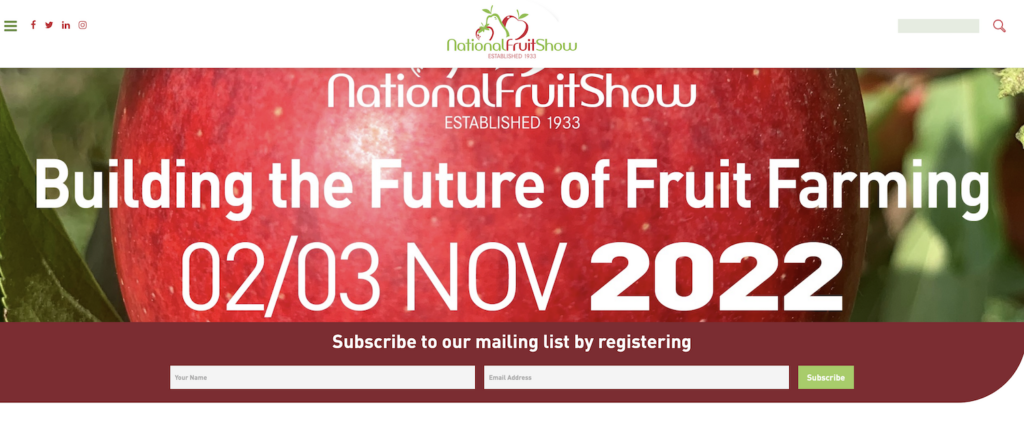 The National Fruit Show is dedicated to showcasing the best of British top and soft fruit and has been organised nearly every year since 1933. The 89th show will take place on 2nd and 3rd November 2022 at Kent Showground, Detling, Maidstone and will focus on soft fruit and technology in the growing sector.
Over 80 businesses have so far booked a stand at the event, with a few spaces still available. Ms Calcutt from the National Fruit Show shared insights on what to expect from this year's exhibitors:
"With the latest agronomic recommendations, product launches, new machinery, the latest in autonomous systems, robots, drones along with graders and packers we are delighted to welcome a number of significant soft fruit exhibitors for the first time as well as expanding the trade show areas for top fruit growers too."
This year's National Fruit Show will also feature a conference programme delivered by the Worshipful Company of Fruiterers to highlight the work of the Awards Council and Nuffield Scholars in fruit research. Moreover, Tom Heap will be speaking about his life in farming media and will take part in the Rural Policy Group debate on farming and the environment.
Another round of talks will be delivered by the Growing Kent & Medway team, focusing on sustainable innovation in horticulture. Attendants will learn about the latest fruit research projects and funding opportunities provided by GK&M.
There will be discussions on various areas of the horticulture sector, including top fruit, soft fruit, cherries, and tomatoes led by NIAB, Thanet Earth, Hutchinsons, University of Greenwich and University of Kent.
According to Ms Calcutt, the 89th show has something to offer everyone in the fruit sector. She gave a preview of the wide range of topics that will be covered by this year's presenters:
"As an industry we all know the move towards the development and integration of exciting new technologies, new machinery and equipment, environmentally sustainable growing practices and varieties with greater natural pest and disease resistance, investment in new club varieties, dealing with draught and climate change, government policy, seasonal labour, and wider recruitment issues.
"All of this will be covered either in talks or by our many exhibitors over the course of the show."
Last but not least, there will be a fruit competition taking place with growers showcasing their finest produce. Ms Calcutt highlights this is ultimately what the show is about: "[…] putting the very best of British top fruit in front of retail representatives and alerting the national media to the needs of the sector and the issues affecting growers."
Visitors are also invited to the National Fruit Show Gala dinner on Wednesday 2nd November for an evening of comedy, music, and a chance to bid for a journey under the North Sea at the charity auction.
Fruit & Vine spoke to Gail Hall, partner at Warners Law LLP who will be exhibiting at the show for the first time this year. Gail commented: "We are delighted to be exhibiting at the National Fruit Show this year, and are looking forward to catching up with our farming clients and meeting some new ones.
"The last few years have been challenging for most of us and, as a result, some of our clients have significantly changed how they farm. Some have decided to switch from growing hops to planting vines; this can be a very capital-intensive process, especially if they build a winery. There is also significant upheaval and uncertainty for many farmers with the changes to government schemes. It will be interesting to catch up with them and find out how things are going and their expectations for 2023.
"As the legal panel firm for Kent and East Sussex, we will be exhibiting alongside the NFU. We have a number of different services that we offer which are exclusive to NFU farmer and grower members, including a discount on legal fees, a contract checking service and a legal health check service."
For more information visit: https://nationalfruitshow.org.uk