Taking innovation in viticulture to the next level
With two decades of experience working as a consultant in precision agriculture, Ian Beecher-Jones has embarked on a mission to revolutionise how technologies are being used on vineyards to work towards solving the industry's greatest challenges while growing the best grapes possible.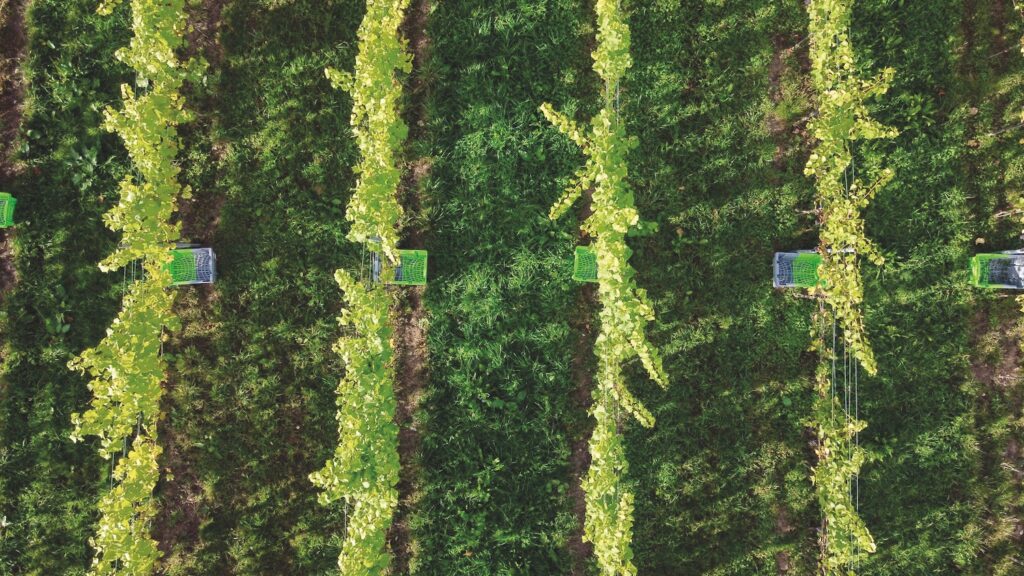 Ian believes vineyards are the ideal environment for testing and developing precision technologies, due to the vines being in the ground for up to 30 years and the position of the rows remaining unchanged over time.
This presents a wonderful opportunity to gather data and information about those vines, he says, whether it be from satellites or drones or robots, to help analyse and understand the crop.
Working with a number of agri-tech companies such as Agri-EPI Centre, Ian has been testing various technologies at his own vineyard in the Chiltern Hills near Henley-on-Thames, which he planted with wife Tess in 2019.
"We like drinking wine, so we thought it would be a good idea to grow the stuff!" he says cheerfully. "That's how it started. We were fortunate enough to buy some land that came up for sale in the village, and vineyards seemed like a very good idea at the time."
Named after the couple's beloved dog, JoJo's Vineyard grows seven different varieties, including the traditional sparkling combination of Pinot Noir, Pinot Meunier and Chardonnay, as well as Pinot Blanc, Seyval Blanc and Bacchus. Not to mention Pinot Noir Précoce, which gives the colouring for their rosé, Ian explains.
JoJo's Vineyard's wine offering currently includes a still white;, a sparkling white due to be released in 2025, and a sparkling rosé.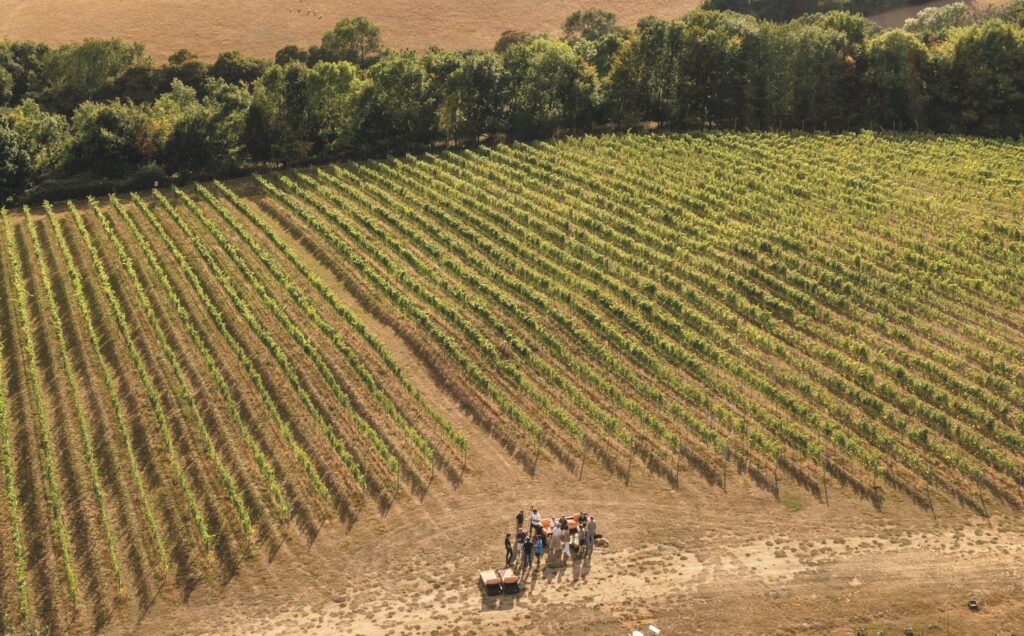 Creating a digital infrastructure
The first step when getting started with precision viticulture is conducting a survey of the vineyard to gather data about the position of vines, posts and rows, as well as where the different variety and rootstock blocks are, explains Ian.
This can then be collated into a digital infrastructure map for providers to use when creating navigation paths for drones and robots.
Having worked in the broad acre sector for a number of years, Ian appreciates the importance of getting the digital vineyard set up correctly, and making it shareable with technology companies to avoid having to repeat the work every time a different provider is called.
"Having that infrastructure in place to share with technologists is absolutely essential," he says.
"Once I have my infrastructure in place and understand where everything is, I can work accurately with whichever provider I want, because I can interpret their information more accurately."
Over the past year, Ian has been working with precision agriculture specialist Agri-EPI Centre on a shareable digital infrastructure project, funded by Innovate UK and Defra, to create a digital infrastructure of the vineyard and upload it to a data sharing platform.
He estimates this could save the row crop sector well in excess of £0.5M by sparing landowners the wasted cost of repeatedly mapping their properties for every provider they are working with.
The system wouldn't be looking to replace any of the technologies currently out there, Ian explains, but rather underpin all of those softwares to provide them with a robust foundation to build upon in a way that helps both providers and growers increase efficiency.
Drone and multi-spectral camera technology can then be used to add layers of data on top of the initial map, such as information on canopy health, the state of the leaves and flowers, shoot counts and yield estimates. This can then be compared to weather data, for example, to identify trends in bunch sizes and canopy health in different varieties.
As part of this second stage of the project, funded by the European Institute of Innovation and Technology (EIT), Ian has been testing ground-dwelling robots to gather data from bud burst all the way through to harvest, with the primary objective being yield prediction.
"That's the focus of technology; rather than disease management, it's going to be looking at yield prediction, because that is, fundamentally, the most important aspect that technology can help with," Ian remarks.
Supplied by agricultural robotics firm Antobot, these AI-driven autonomous robots are equipped with cutting-edge GPS and LIDAR systems to help then navigate around the vineyard and carry cameras and sensors to monitor and analyse the vines and fruit throughout the season.
The triple-A approach
The work being carried out at JoJo's is still in its early days and it's based around three criteria, which Ian calls the "triple-A approach":
Acquisition – how data is obtained, such as with drones or robots
Analysis – how data is analysed, what information must be gained from it
Action – how information from the data is actioned.
"What we're looking at is how do we gather the data? What's the analysis of it? And then how can we join it to an action," he explains.
Examples of actioning data could be inputting information into a sprayer for auto shut-off, or identifying vines in poor condition and taking some soil samples, Ian notes.
Once again, getting navigation right is essential before robots can be released into vine rows to gather data, as the technology must be fully unmanned for it to be cost-effective for growers. And so, it all comes back to surveying the vineyard and having the infrastructure set up correctly to ensure route planning is as smooth as possible.
"That's what we're trying to do at the moment, is integrate a number of different systems so I can share my infrastructure with a number of different drone and robot platforms to make that navigation planning much easier," Ian adds.
"It has to be grower-friendly"
When it comes to using technology in vineyards, Ian says opinions have been mixed among growers, with some arguing technology is just a waste of time and resources if the crop is already even and there is little variation.
While Ian agrees with this perspective to some extent, he goes on to point out that auto section control is one piece of equipment the viticulture world could do with that has been available in broad acre farming for many years.
"If you're turning your sprayer on and off two, or three, or four seconds before you enter the vine row, you're turning it on too early; you are just wasting spray, and that's not good for anybody.
"I don't think anyone would say 'no, auto shut-off at the beginning and the end of the rows wouldn't be a valuable tool to help improve what is going on in viticulture'."
However, any technology proposed to growers has to be user-friendly rather than 'techy-friendly', he adds, as tools that are too difficult and complicated to use will not interest growers even if the results are amazing.
"The front-end functionality and user interface has to be reflective of the people using them, and apps that are in tractors, in robots, or in and around drones, have to be user-friendly. And if we haven't got that, then it's a total waste of time."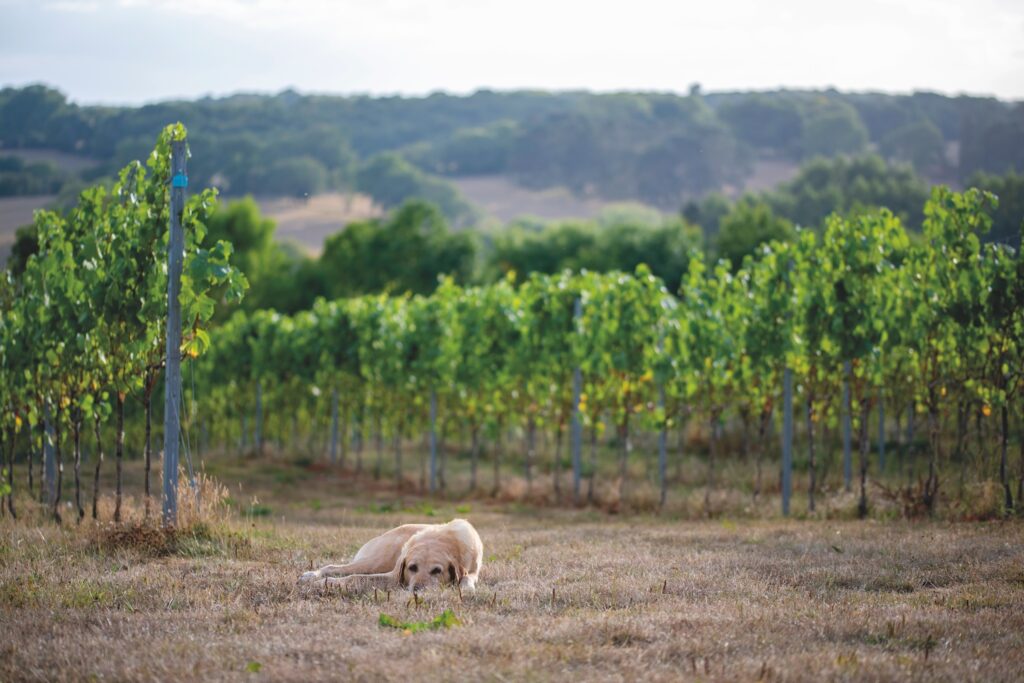 The future of automation
Another project that has taken place at JoJo's recently was looking at navigation around the vineyard for logistics to address labour shortages in the industry, which are predicted to worsen over the next five years.
The concept involves autonomous robots being developed by Antobot replacing some of the manual workforce at harvest by taking trays of grapes to the packing station.
At the present time, however, the company has found more success in the soft fruit sector, which provides a better commercial opportunity with the robots being used every two or three weeks as opposed to a single, very intense, one month of the year in the viticulture sector.
"I think this is the highlight of the challenge that viticulture has got is that, there's opportunity in vineyards, but there's greater opportunity in other agricultural products," Ian remarks.
"And so, we have to be patient and find very good use cases of how we can apply technology in an affordable and practical manner for the grower."
He points out that grape harvesters are much more likely to dominate automation around harvest in viticulture, as they offer high capacity, high volume and high speed, with the machine needing only a single operator to bring in the crop and transfer it into boxes ready to be processed.
"At this stage, it's a no-brainer. If a grower is looking for speed and efficiency, then it's the likes of New Holland and Pellenc machine harvesters that will be the way forward, and I think that will be the case for the next probably five years."
Reflecting on the robotics project to replace manual labour, Ian said there is a real wrestle between trialling new technologies and identifying those that are practical to use in vineyards at this time. However, he still considers it important to explore new concepts and approaches, as forward-thinking ideas are the drivers behind innovation.
"I'm sure we'll knock our head against a brick wall on a number of occasions, but we'll come to conclusions, and I'm very happy with saying no to some technology with as much enthusiasm as saying yes."
The work to bring new innovations to viticulture at JoJo's is set to continue, and one upcoming project will be looking at data platforms and bringing data together, which Ian predicts will be highly beneficial and useful for growers. While traditional winemaking techniques should be protected and valued, he is a firm believer that vineyards ready to embrace new technologies to enhance production will be at the forefront of the industry.
---