Net zero: First Scottish bitters made with wild botanicals
A distillery in Perthshire has released the first ever Scottish cocktail bitters made only with wild botanicals, as part of a bid to reach net zero.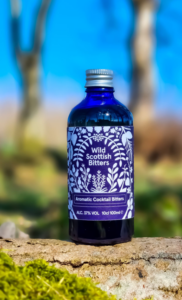 Aiming to reconnect people with nature and help Scotland reach its net zero target, Highland Boundary distillery developed Wild Scottish Bitters, made from sustainably harvested wild Scottish botanicals.
The bitters recipe has been seven years in development, with each botanical ingredient being individually prepared using specific maturation conditions.
"We work individually with each wild plant to determine the conditions to extract the best flavour, then we combine them to achieve the final recipe that brings an aromatic bitterness essential to cocktails and which enhances the flavours of the other cocktail ingredients," said Distillery co-founder Dr Marian Bruce.
An essential part of many classic cocktails, bitters are usually made with tropical plants and imported from overseas, carrying the carbon footprint of global shipping.
Highland Boundary describes itself as a wild flavour innovator, reviving and modernising ancient traditions and the cultural use of Scotland's native plants in spirits.
Distillery owners say their unique and diverse production methods are rigorously and scientifically developed to extract the maximum flavour from native flora.
Distillery co-founder Simon Montador says: "We have lost the cultural connection with most of our native flora in Scotland. At Highland Boundary distillery we work only with wild Scottish plants to research and restore this knowledge and aim to re-connect people back to nature through the unique flavours found in our wild landscapes."
The distillery is working with master whisky blenders Whisky Row, whose Smooth & Sweet edition is the perfect accompaniment to Wild Scottish Bitters – bringing classic whisky cocktails alive with wild flavours.
Whisky Row is crafted in Leith, the beating heart of Edinburgh's historic whisky district, and is a collection of three deliciously distinctive drams, each with a character as dramatic and distinctive as the streets that inspired it.
A launch party will be hosted by whisky expert Colin Hinds at his Tipsy Midgie whisky bar in Edinburgh, celebrating a modern take on the traditional.
Simon adds: "With whisky being one of Scotland's biggest exports these Wild Scottish Bitters build on our heritage of great drinks distilling. It's fantastic to collaborate with the progressive team from Whisky Row to launch the first ever Scottish cocktail bitters at Edinburgh's favourite whisky bar.
"The bitters bring a lovely balance to both traditional and modern cocktails and we look forward to seeing how cocktail bartenders and enthusiasts will use them going forward."
The new wild bitters will be available first at the Balgove Larder, St. Andrews from 2nd May, online and in fine spirits retailers across Scotland.
Highland Boundary's recipe for an Old Fashioned cocktail:
Half a cap of Wild Scottish Bitters (all Highland Boundary's packaging is plastic-free so the bottle doesn't have a plastic shaker insert – just measure using the cap)
2 measures (50mls) Whisky Row Smooth & Sweet Edition
2 teaspoons of sugar syrup.
More details and cocktail recipes at https://highlandboundary.com/products/wild-scottish-bitters