Munckhof Fruit Tech Innovators strengthens its dealer network in the UK
Munckhof Fruit Tech Innovators has expanded its dealer network in the UK with a new dealer in the Southeast of the United Kingdom. From now on, Munckhof' orchard sprayers, harvesters and box fillers can also be purchased through Seymour Engineers in Cranbrook (Kent).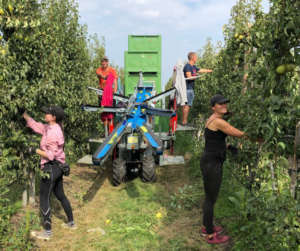 Seymour will also become Munckhof Fruit Tech Innovators' new service point when it comes to service, maintenance and parts supply for all Munckhof machines. Munckhof and Seymour are pleased with the new partnership.
Munckhof Fruit Tech Innovators has been in business for more than 100 years as a developer and manufacturer of picking machines (pluk-o-trak), tree shakers, precision sprayers, GPS root pruners and box fillers for the fruit, wine and hop growing industries. Over the past decade, Munckhof has specialized heavily in drift reduction of sprays and precision farming. By combining existing fruit growing techniques with new pressure control techniques on the nozzle, GPS technology, image capture via drones, and data collection and linking, it becomes possible to perform and record operations such as crop protection and fertilization down to tree level.
Munckhof and Seymour Engineers have known each other for a long time. Seymour Engineers has been a well-known specialist in fruit growing and viticulture for 45 years. Over the years, Seymour has built relationships with well-known manufacturers of tractors, sprayers, and cultivation equipment. For years, Seymour is the reliable dealer for the KWH Holland machinery that are being manufactured by Munckhof since 2022. Both parties strengthen their position in the UK fruit and viticulture market and include now also the Munckhof machinery in Seymour's range of products and services. For Munckhof customers, it creates an additional service and sales point in the United Kingdom. The new dealership is also good news for them.