Living the viticulture dream, from vine to wine
Husband-and-wife team Martyn Pollock and Helen Matheson-Pollock are committed to making small batch, estate-grown wines that are a true expression of their boutique vineyard in the heart of the Kent countryside. Rachel Hicks writes.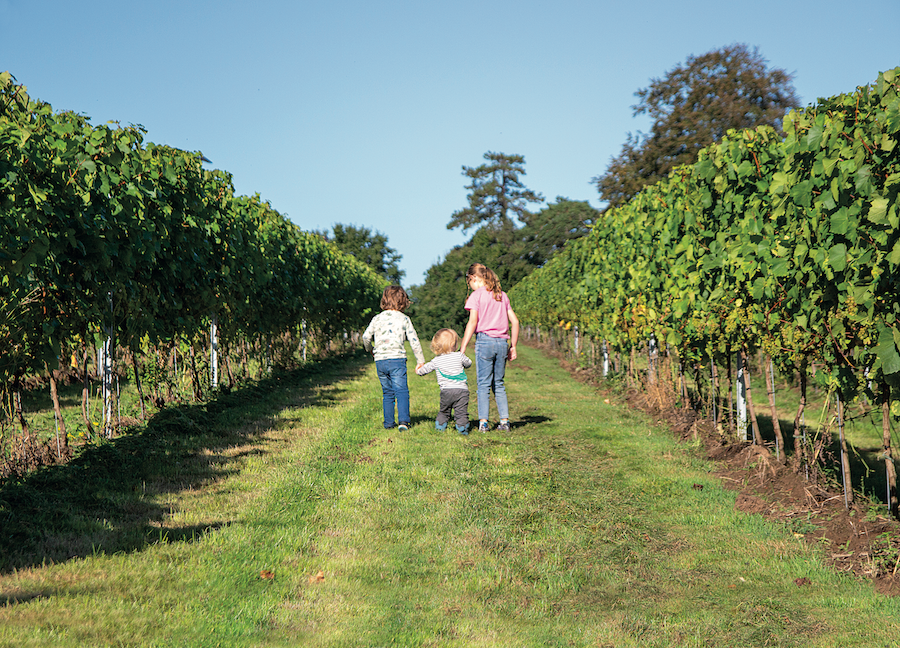 Martyn, a former army officer, and Helen, previously a historian/writer, own and run Nine Oaks Vineyard, with 'help' from their three young children, Makenna, Angus and Finn. The vineyard is next to Helen's family home in the village of Hothfield, Kent where she was born and brought up.
Martyn explains: "We had always had a fascination with viticulture, from growing our own vines in the garden to making homemade wine – and for many years we had a dream of one day planting a vineyard.
"We had been living in Kenya from 2016–2020, where I had been posted with the army; although we loved living in East Africa, after leaving the military and following a fairly brief period of working in sustainable agriculture in Kenya, we decided that we wanted to return to the UK and put in place our long-held plans to plant a vineyard.
"Helen's family had around eight hectares of land in Hothfield, which they had been renting out to a local sheep farmer for over 20 years. A vineyard consultant conducted an initial viability review and, when the report came back that it was an excellent site for vines, the decision was made."
From the outset, Martyn and Helen had a vision to create a family-run vineyard that makes small batch, estate grown still and traditional method sparkling wines. They are proudly independent and focus on quality over quantity in every aspect of their business.
Making a start
Martyn and Helen began preparing the land in very early 2020, and the first 0.9ha of vines went into the ground that May. "It was definitely something to keep us busy during lockdowns!" explains Martyn. The couple planted a further 2ha in May 2021, bringing the total under vine to just under 3ha, with 1ha of suitable ground still remaining to plant.
The land had been used primarily for sheep farming for decades, and was formerly part of the estate belonging to the original Hothfield manor, which was torn down in the 1950s.
It had been farmed by local tenant farmers for generations, and that continued once it was sold privately. Some quirks of its former history remain, including an icehouse and the site of an old gas works dating from WWII – it really is a beautiful property.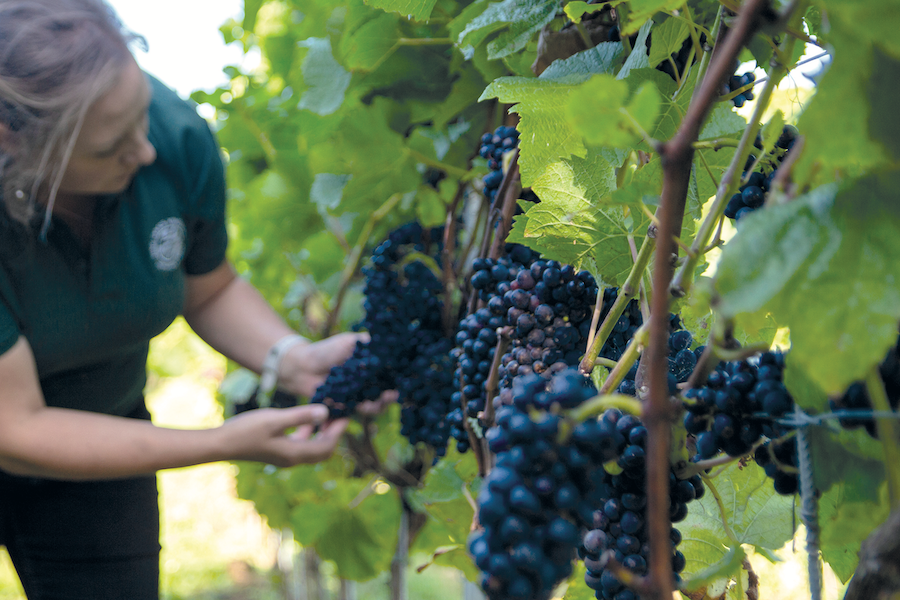 Well-suited to vines
Not only is it a stunning location, the land at Nine Oaks is also very well-suited to growing vines. "We are extremely lucky to sit on a very narrow seam of the Greensands Ridge. Our soil therefore has a high sand content and roughly a metre down is what I would term as 'builders' sand'," comments Martyn. "Our sandy soils help with drainage and heat retention, and also go some way to limiting vigour."
The slopes undulate in most directions, with the vines having been planted in rows roughly north-west to south-east. The vineyard is at fairly low altitude, although it's situated on one of the highest points in the local area – up the hill from a major flood plain in any case, Martyn points out. As a result, the site is well-drained, and in the few areas where land drainage was not so good, the couple had some additional drainage installed prior to planting.
The site benefits from the shelter of some very well-established trees and bordered woodland.
Martyn predominantly takes care of the grape growing/farming side of the business, while Helen oversees the wine sales, social media and marketing. All major decisions are made jointly by the couple, and they have support through ad hoc labour as and when needed.
The 2022 harvest saw a yield of around 6t from the initial 0.9ha planting, which was on its third season. The 2023 harvest, however, will be the first one to offer up crop from all the vineyard's vines; albeit slightly limited as the 2ha planted in 2021 will not produce a full crop due to its immaturity.
"2022 was a fantastic growing year for our vines that were cropping," shares Martyn. "We had a good first harvest of clean, ripe fruit with excellent natural sugars. Our establishing vines struggled, however, due to the dry and hot conditions." As such, around 30% of those were pruned right back this year to give an extra season of establishment, so that they are strong enough for next year's growing period.
All grapes have been harvested by hand so far, but Martyn and Helen are interested in and open to the idea of mechanical harvesting. "For previous harvests we haven't had any employees, so have recruited solely from our wonderful, very supportive local community. As the quantities get so much bigger, though, we may need to take a different approach!" shares Martyn.
For many of the management tasks, Nine Oaks uses a Fendt 250V vineyard tractor, which Martyn purchased from the used machinery department at local specialist dealer, NP Seymour. They also have a Carraro sprayer, rotary mower and a Boisellet under-vine weeding system.
Currently the couple are unable to devote themselves to the vineyard full time, so for now it is necessary to employ teams of labour for the bigger tasks that are impractical to do in-house.
The SJ Barnes team is their go-to contractor for mechanical trimming, de-leafing and a variety of other vineyard tasks – Sam Barnes initially planted some the vines at Nine Oaks, along with managing the vineyard operations at the beginning, so has been involved since day one. For Martyn, working with professionals to get the basics done properly has been key to the vineyard's initial success, allowing Martyn and Helen to slowly transition into doing things themselves.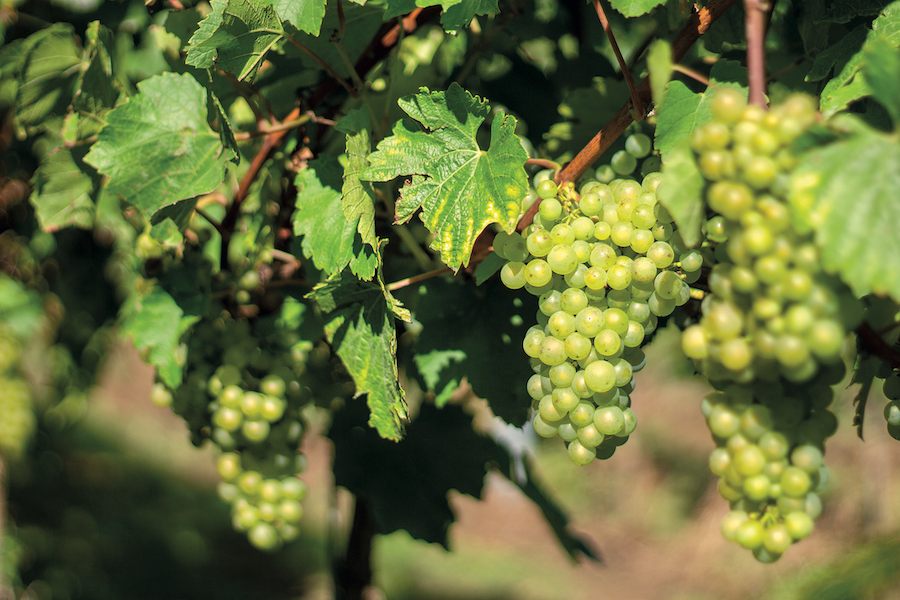 2023: A tricky year for vine management
Nine Oaks has been working with viticultural agronomist John Buchan for the last two seasons, with Martyn saying that the sustainable, bespoke approach that John takes is in line with their philosophy as a business.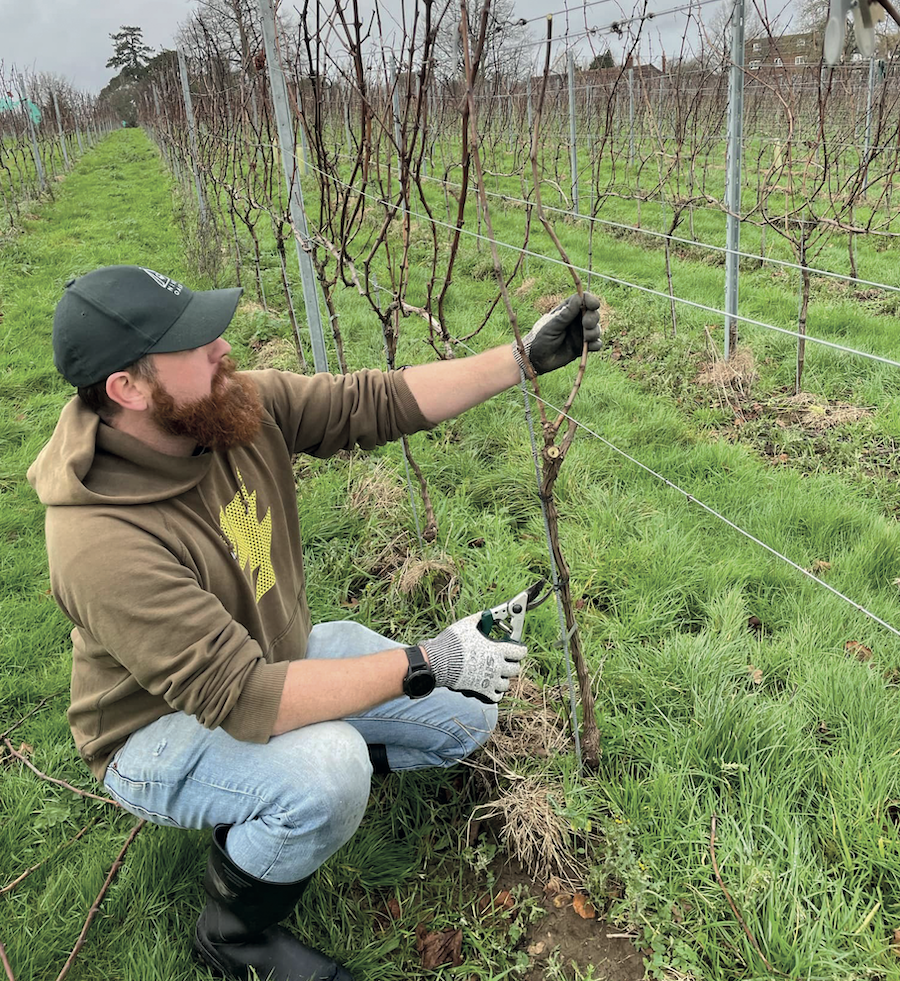 Vines are on a single guyot trellis system with metal end posts, and the duo undertake all the pruning themselves.
After a great June, July was so wet and cold this year that Martyn and Helen decided to crop thin extensively. They also reduced their spray interval to 10 days from a more relaxed 14-day programme for the remainder of the season, to keep on top of any mildew and botrytis concerns.
Martyn comments: "Weeds have also been a big problem this year, and as herbicide has not been an option in the summer months, we have used a combination of our vintage Boisellet weeder and hand weeding to keep the burden down."
So far, mainly due to the nature of the terroir, they have been lucky when it comes to late spring frosts and have not needed to take any significant additional measures beyond keeping the vineyard properly mown etc – although they intend to stock up on some bougies for next year as a 'just in case' measure.
Pest control
Starlings are the biggest pest by far at Nine Oaks. According to Martyn, in the last two weeks before harvest they arrive and start systematically working their way through the vineyard, devouring the grapes in their path. He explains: "The arrival of the starlings is an indicator that sugar levels are rising enough to be picked.
"We have invested in some new nets this year, and we also have an army of hawk kites which we bought from Amazon. In the last week before harvest, we also try to have a constant human presence in the vineyard to deter the invaders!"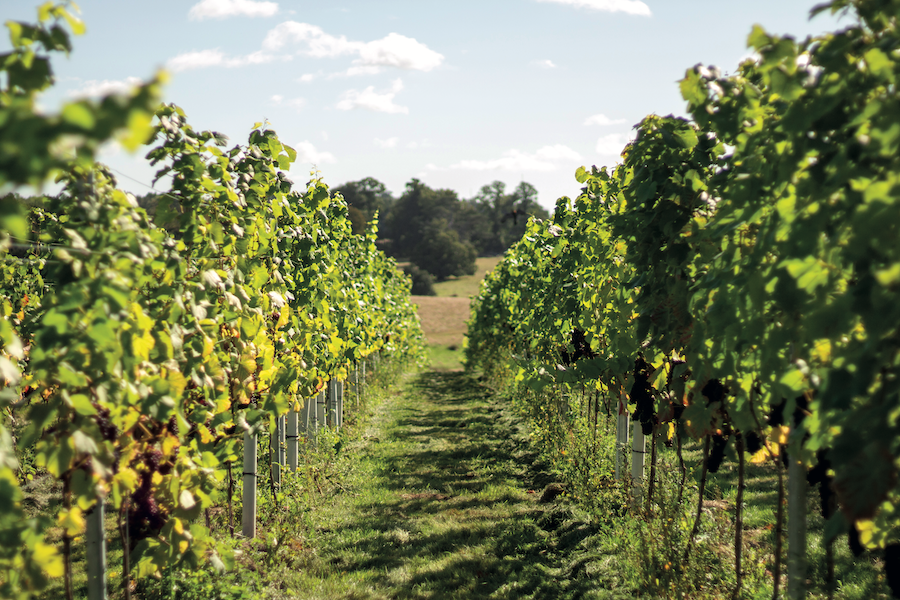 Quality over quantity
Martyn and Helen produce still and traditional method sparkling wines under the Nine Oaks label, with all grapes grown at the vineyard going into their own branded wine.
This year they have a still rosé made from 100% Pinot Noir and a lightly oaked still Chardonnay. For next season, they will welcome a still Bacchus to the range, as well as their first small release of traditional method sparkling, which will have had a full 24 months on lees before release.
The vineyard produced just under 1,000 bottles of the rosé and 3,000 of the Chardonnay; according to their tasting notes, the crisp and clean rosé offers "strawberries on the nose and an intense finish", while the Chardonnay is described as a "lightly oaked fruit-driven Chardonnay with hints of apple and honey".
All Nine Oaks wines so far have been made by Defined Wines in Bridge, Kent. As Martyn points out: "We are very lucky to have Defined Wines so close, especially as Henry Sugden and I have some military connections that go back beyond the wine world.
"We have been very impressed with how Defined Wines have produced our wines and we value the wealth of experience and wine-making knowledge that they bring to our business."
Initially, Nine Oaks began selling business-to-business through local farm shops and some of the more specialist retailers such as Macknade Foodhall in Faversham and Corkk in Canterbury.
Now, however, they also sell through their own website and on-site at special events like their open-air theatre and yoga evenings. "We hope to invite more sales through the cellar door in due course. We are building our profile on social media and do use this to support our sales," points out Helen.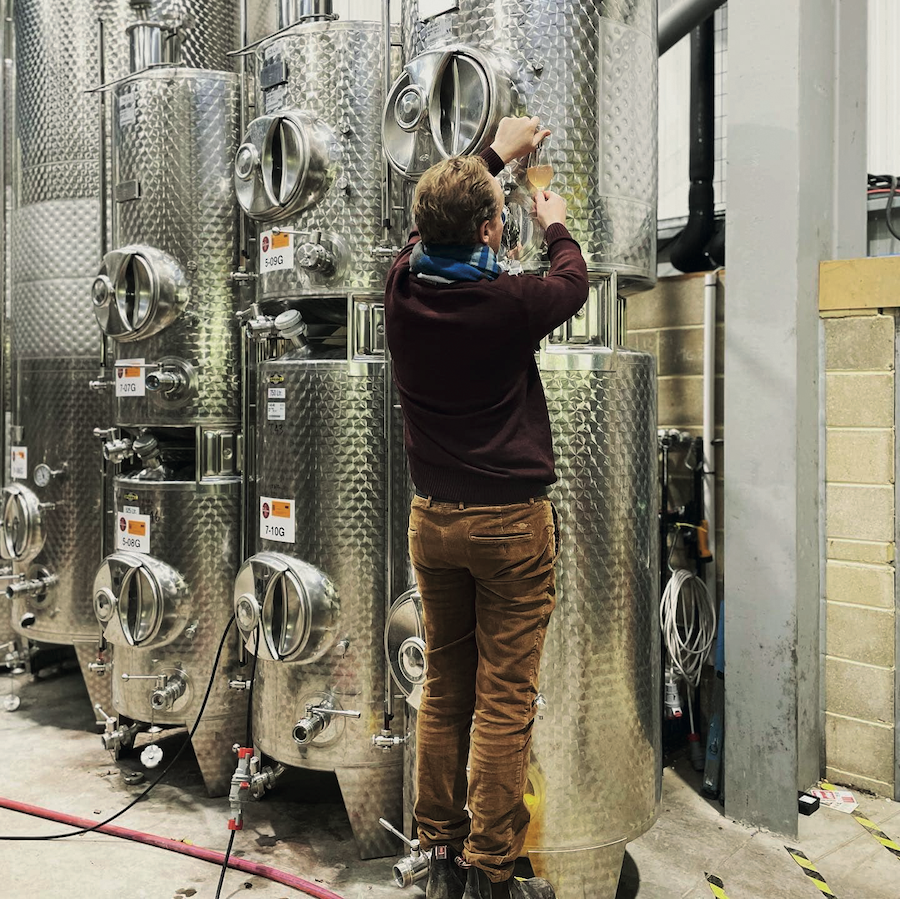 Making the most of diversifications
This year, Nine Oaks has offered four rounds of open-air theatre, which Martyn says has been "fantastic", commenting: "We've loved having people on site. We are also starting a series of 'Unwined' evenings – combining yoga, wine and charcuterie boxes, where we are teaming up with two other local businesses.
"Next summer we hope to run even more of these events, and are considering what other options we can offer, too."
Sustainable approach
They intend next season to reduce their usage of herbicides; instead opting for grass under vine and strimming rather than using herbicides. They want to be as 'green' as possible and reduce their carbon footprint as much as is feasible – so will be moving away from traditional diesel in favour of HVO.
There's 5ha of land next to the vineyard which is unplantable, and Martyn and Helen have been working with Kent Wildlife Trust, 'giving over' some of the land to them as a kind of mini nature reserve which is being used to try to boost the local great crested newt population, amongst other things.
As Helen explains, they're trying to be quite strategic but also environmentally mindful – supporting the local eco system as much as possible.
They currently use some of the land for grazing Highland cattle, and are looking at rewilding other areas for biodiversity and wildlife habitat creation.
Future plans for the vineyard
For Martyn and Helen, the timing of establishing the vineyard has been challenging to say the least, because they started in the midst of the pandemic. Everything was much harder than they had initially anticipated, and building plans for a barn-style structure have been delayed due to the economic crisis and cost of materials skyrocketing.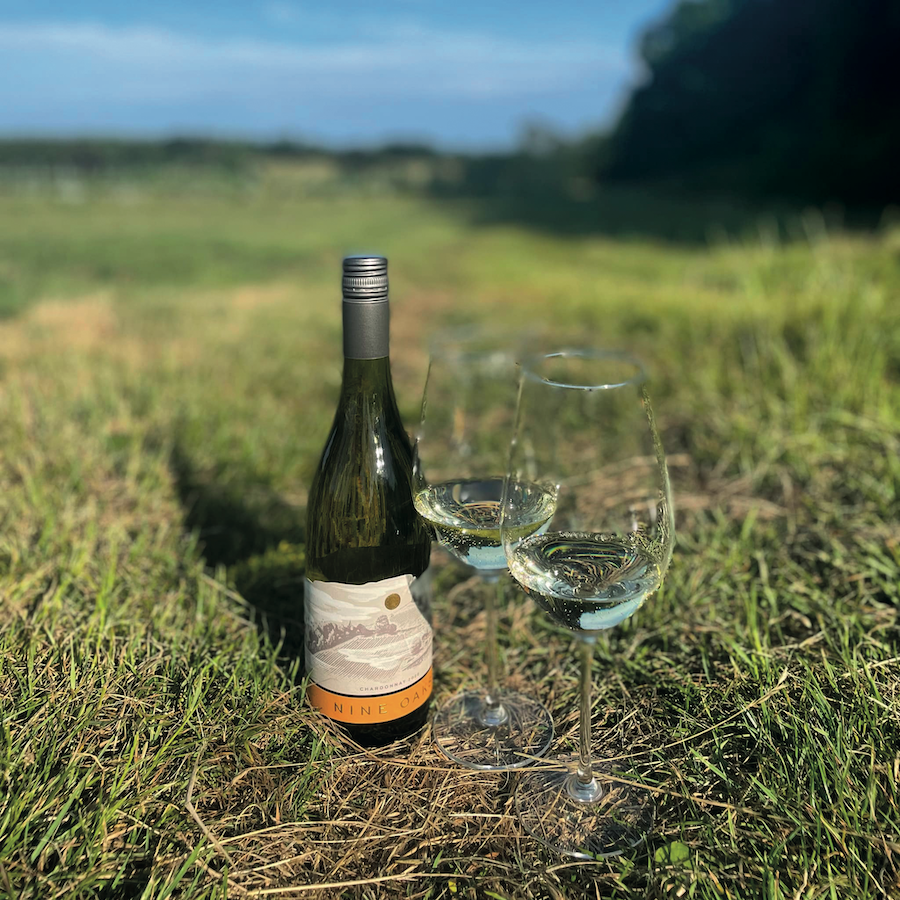 In vineyard terms it is still quite early days for Nine Oaks. "We are excitedly awaiting our first Bacchus and sparkling wines to add to our range, and we planted strategically so we can experiment with other wines from the existing grapes," says Martyn. "We also have another 1ha, give or take, to plant; so exactly what and when that takes place is subject to discussion.
"So far, we've played it quite safe in terms of the varieties we've planted – but moving forward, we may lean more towards something that's traditional to the UK and which provides a bit of variety to the industry; there's a lot of benefit of early ripening and disease resistance, highlighted by this year – as there's a real risk some grapes won't get to the required sugar levels by the end of October, so this is something to seriously consider."
A few varieties are being pondered at the moment, with Pinot Précoce, Dornfelder, Ortega, Seyval Blanc, Pinot Gris and even Riesling all currently on the table – depending how bold they want to go.
With two still wines already available and a third coming online from next year with the still Bacchus, Martyn says they're still testing the market in terms of what's workable from their perspective – it's a balance between wanting to have as much variety as possible, and the economies of scale.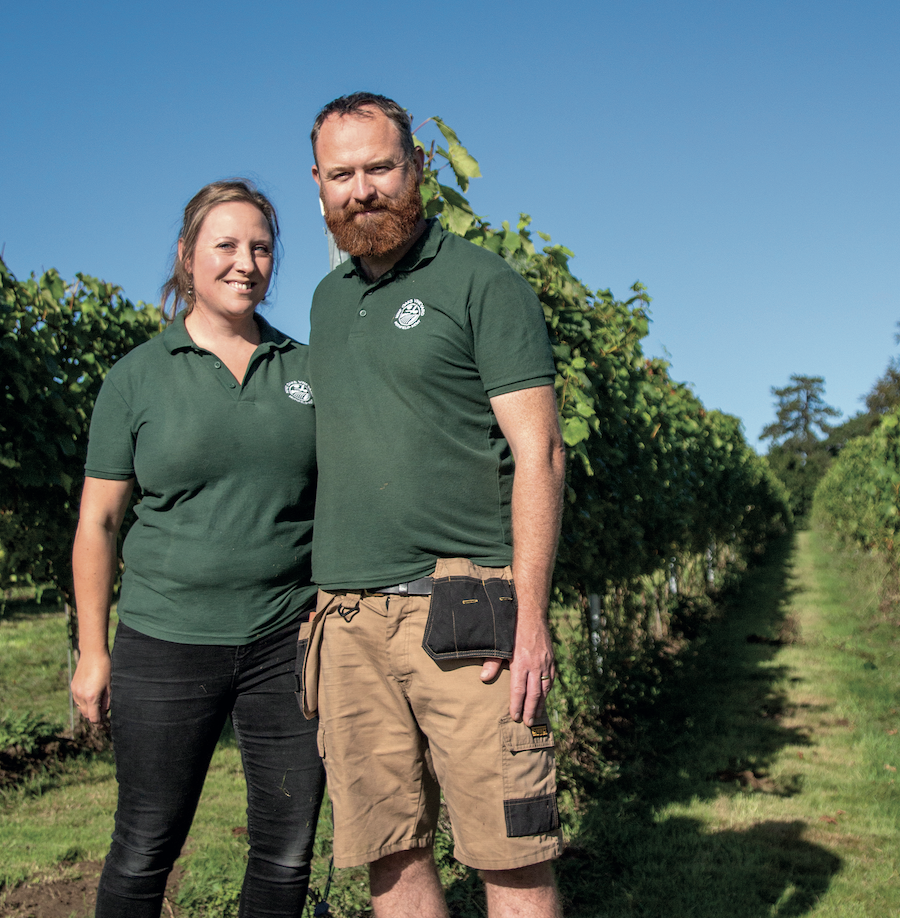 Vineyard facts:
Owners: Martyn Pollock and Helen Matheson-Pollock
Location: Hothfield, Kent
Total vineyard size: 8ha, with just under 3ha under vine and a further plantable area of 1ha
Soil type: Fine loam and sandy soils (part of the Greensands Ridge)
Aspect/terroir: Around 15 miles from the sea. The slopes undulate in most directions; the vines are planted in rows roughly NW to SE. The vineyard is situated at a fairly low altitude, although at one of the highest points in the local area, up the hill from a major flood plain. Shelter is provided by some well-established trees and bordered woodland
Varieties grown: 0.9ha Pinot Noir; 0.8ha Chardonnay; 0.8ha Bacchus; 0.4ha Pinot Meunier, on S04 and fercal rootstock.
---