Fruit Focus 2023: A hub for technical innovations and fruit research
Growers visiting Fruit Focus on 12th July in East Malling, Kent, will be able to explore cutting-edge research and innovation projects, funded to tackle some of the biggest challenges facing the fruit sector.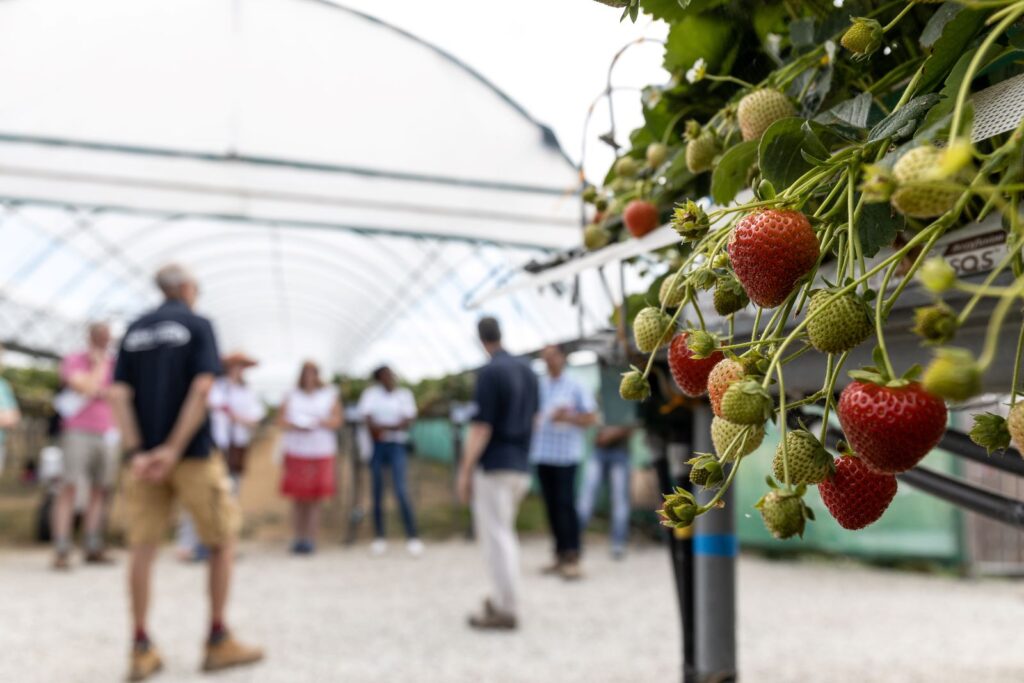 Visitors toured NIAB's WET Centre at Fruit Focus 2022.
This year's Fruit Focus has been organised jointly by Growing Kent & Medway, Innovate UK and the Biotechnology and Biological Sciences Research Council (BBSRC) and will provide a platform for the industry to sample the latest scientific and technological advancements.
A key feature at the event will be the Fruit Research Innovation Hub, which will demonstrate how investment in the UK's fruit sector is driving forward discovery science and its translation to enable commercial innovation.
On display will be the latest near-market advances in agri-technology, from spectral imaging with Artificial Intelligence, to machine learning for predicting optimum fruit harvest periods. There'll be an opportunity to see how our understanding of new and emerging pest and disease threats is moving forward.
The state-of-the-art research facilities at four Kent-based organisations will also be on show.
Dr Nikki Harrison, programme director at Growing Kent & Medway, said: "The Fruit Research Innovation Hub is a great opportunity to see the impact that national and place-based funding is making, for both the sector and the region. The Hub will demonstrate the advantage and value to UK businesses that collaborative funding approaches can deliver."
Some of the projects on display will include:
Fotenix Limited: integrating advanced camera hardware, 3D multi-spectral and laser-dot technology, and AI services to enhance UK food production (Innovate UK)
Machere Ltd: Identifying organic liquid fertilisers for aeroponic systems (Growing Kent & Medway)
Air-seq: a revolutionary technology developed by Earlham Institute that uses DNA sequencing to provide early warning of airborne pathogens (BBSRC)
University of Greenwich and NIAB, East Malling: Pheromone of Apple Sawfly, developing new tools to manage a re-emerging Pest (BBSRC)
The Hub will also provide an opportunity for businesses across the supply chain to access research funding and expertise, with the aim of driving innovation and keeping the sector competitive and resilient in a changing environmental and economic climate.
Dr Katrina Hayter, executive director of Healthy Living and Agriculture Domain at Innovate UK, highlighted the pivotal role collaboration and knowledge sharing play in the development of innovative ideas.
"Our Fruit Research Innovation Hub will allow us to showcase some of our success stories and engage with a range of experts and potential funding applicants from across the industry, who can come together and each play their own key role in helping to develop the food sector of the future."
Dr Karen Lewis, executive director for Capability and Innovation at BBSRC, added: "At the Fruit Research Innovation Hub, we will be showcasing research projects from researchers across UK universities and institutes which aim to help address some of the most pressing challenges facing horticulture and fresh produce."
The Hub will be located at stand 700 during Fruit Focus, which is free to attend for visitors who register in advance. Three tours to see the research exhibits will also take place throughout the day at 10:00, 11:00 and 14:00.
Register for the event here.