Firm behind world's first raspberry picking robot secures £1.5m investment
Fieldwork Robotics, the company behind the world's first raspberry picking robot, has secured £1.5 million in funding from investment firm Elbow Beach Capital (EBC) last month to enhance its technology and expand its reach.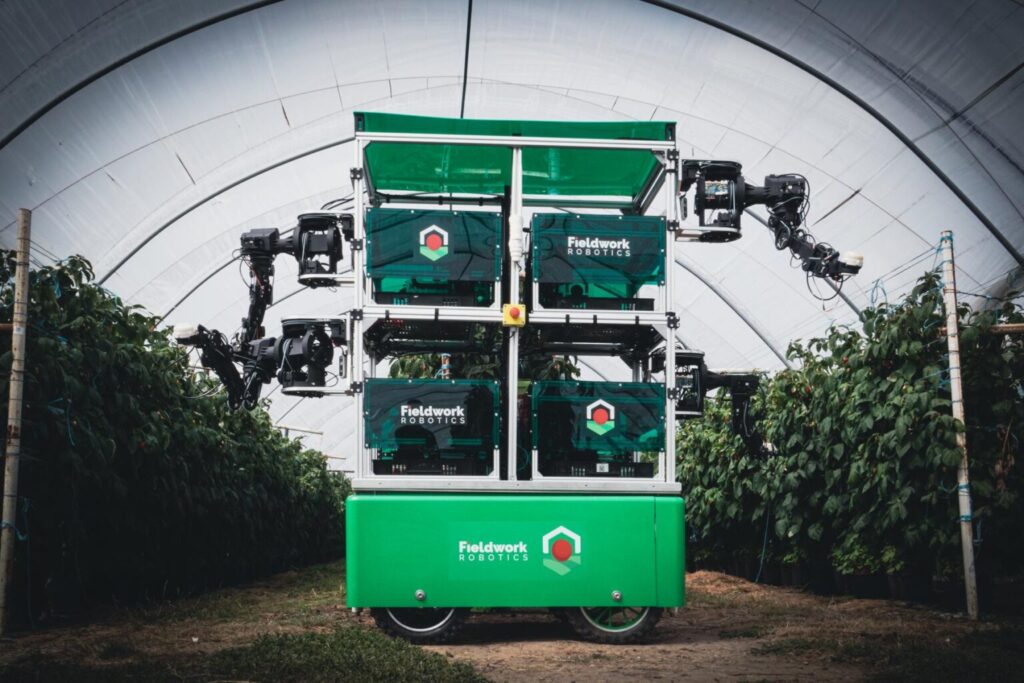 With the UK soft fruit industry suffering from chronic staff shortages and low margins, the Fieldwork team's invention comes as a much-needed solution to ensure the sustainability and competitiveness of this vital horticulture sector.
In collaboration with Bosch, Fieldwork developed state-of-the-art, AI-driven harvesting robots with the mission of solving the problem of labour shortages, increase farm efficiency and reduce food wastage in the UK and beyond.
This year alone, the NFU is estimating that as much as £60m worth of food will go to waste on farms due to a lack of workers. Picking berries also accounts for over 50% of total production costs for raspberry growers, meaning the technology could address multiple challenges at once.
Fieldwork's robot, named Alpha, analyses the crop, decides when to harvest the raspberries, and places them in punnets ready for delivery to supermarkets. It is already being used to pick fruit for the UK's top retailers, including M&S, Sainsbury's and Waitrose, with the company now planning to expand its reach further afield.
Alpha gives growers the ability to extend operations to 24 hours a day, increasing harvesting time by up to 300%. With ongoing labour shortages, the robot can provide assurance to farmers that harvest will not be impacted by seasonal or policy-led variations in available labour supply.
Fieldwork's technology therefore allows growers to significantly increase their harvesting efficiency and reduce the amount of fruit wasted on farms.
The company will use the funds raised through EBC to grow its team, begin outsourcing the manufacture of its robots, and onboard more farmers to its harvesting-as-a-service offering. Its ambitious growth plan includes having 100 robots available for servicing farms by 2025 and treble the harvesting speed of the robots.
Fieldwork has recently appointed David Fulton as CEO, who brings a wealth of knowledge in AI, technology development and marketing.
Commenting on the investment, Mr Fulton said: "Elbow Beach Capital are a great strategic and cultural fit for us.
"This round will support our work with forward-looking farms looking to solve their labour shortages, reduce crop wastage and mitigate food inflation."
Jon Pollock, CEO of Elbow Beach Capital, added: "Agriculture as it stands is not fit for purpose and we need innovative technologies to alleviate the unsustainable levels of waste and improve the economics for the farmer and end customers in the sector.
"We look forward to working closely with Fieldwork as they tackle this issue head on."