Exciting innovations in cider and wine
Despite challenges in both the fruit and vine growing industries, the market for crafted ciders and English wine continues to grow. Fruit & Vine deputy editor Sarah Kidby spoke to consultant viticulturist, and wine and cider maker, Simon Day about industry trends, innovations and challenges.
Crafted cider has seen 10.2% growth in the past year versus total cider sales which declined by 7.1%, though this does not capture the many independent cider producers (Westons Cider Report 2023). This can make for a very sustainable business, and there appears to be a willingness to pay more for a quality product, Simon explained.
"There are some really good producers who are pushing fantastic cider products, but at wine-like prices. At that point, as a business it becomes very sustainable and there's actually a profit to be made which has always been the big challenge. There does seem to be an acceptance of paying a bit more for something that's proper quality. That ties in with the fact that consumers, especially younger people, are drinking less but drinking better."
Having the confidence and ability to explore these avenues, using high volume juices as a base rather than concentrates and sweeteners, to produce more interesting ciders – even if just for a part of the range – will be key to growing the sector.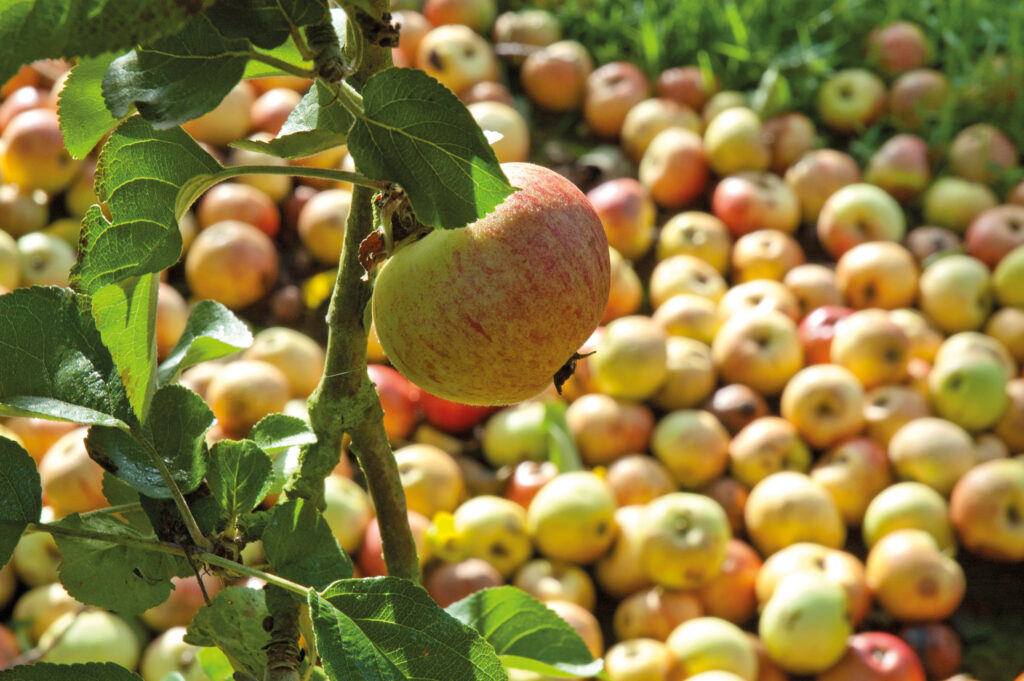 A fresh approach
Haygrove has been conducting an innovative trial over the past seven years, using polytunnels with vines grown in substrate and fertigated using harvested rainwater.
"We're breaking all sorts of perceived norms, growing vines in a 50-litre pot which is tiny for its root system. We're getting good crops of grapes in their second year. Some of these varieties you wouldn't stand a chance of ripening them outside in the UK.
"We're also taking out a lot of variability. Just like soft fruit growers have found with strawberries and raspberries etc, we're working towards doing the same with wine grapes and producing exceptional quality wine year after year."
Advantages include fewer pesticides and better pest control. "There are opportunities to control pests like SWD as we can put netting on the ends of the tunnels to stop the bugs getting in. There are lots of advantages. It's quite an expensive experiment but we're close to seeing some really exciting results. The quality of the grapes is good; what we're working on is getting the balance of yield and ripeness."
An initial trial involved 10 mostly late ripening varieties – Viognier, Riesling, Chasselas, Sauvignon Blanc, Chardonnay as a benchmark, Gewürztraminer, Cabernet Franc, Cabernet Sauvignon, Merlot, and Pinot Noir as a benchmark. In the second stage, involving an area less than 1ha, they used mostly Pinot Noir and Chardonnay as they had exceptionally good results with those – and one tunnel of Cabernet Sauvignon, which has been more of a struggle to get consistently right.
Haygrove was an innovator in using polytunnels with strawberries, at a time when the industry was heavily sceptical about it. Supermarkets would at one stage buy only a little of the farm's polytunnel-grown fruit  – but now buy it exclusively as they know yields and quality will be consistent, Simon said.
If successful, it's likely the method will be extended over a larger area of the farm. The trial has generated interest in the industry and Haygrove is looking to partner with a winery with volume. "It's a contentious one because we're covering part of the land with plastic. At the end of the day you want something that's sustainably produced and tastes brilliant. We're close to that."
Although he expects to see this method used increasingly for certain products, Simon does not foresee a point in his lifetime when all vines are grown this way, and nor would he want to see it.
Keeping up with trends
With consumer preferences frequently changing and long gaps between deciding what to plant and seeing the end product, it can be difficult to keep up with trends. Whilst very aware of the fruit flavoured cider segment, Simon's preference is not for the over-sweetened flavoured ciders – instead, his cider business Once Upon a Tree has experimented with innovative techniques, such as co-fermenting with Pinot Noir grape skins to make rosé cider. Once the skins have finished the ferment off the red wine, they are given a second use fermenting the cider. Using Bacchus wine lees in the fermentation process also gives "lovely elderflower characters". Additionally, stored blackberries grown at Haygrove have been pressed into cider juice, fermenting it all together for much more complex and interesting flavours.
English wines are less affected by trends, although one of the most common questions Simon is asked is about the colour of rosé – consumers want an incredibly pale colour, but we are already beginning to see a shift back to a trend for darker rosés. Varieties such as Pinot Noir, Chardonnay, Meunier and, increasingly, Bacchus, however, are unlikely to ever go out of fashion, Simon noted.
There is currently a lot of interest in PiWi varieties – although many are not new and have been grown for many years, they present opportunities for growers in a time when reducing environmental impacts is a particular concern. "With sustainability being such a watch word with consumers, it's a very easy win and you can make some really nice wines from a lot of these varieties. Some of the new resistant varieties are really interesting too," Simon said.
Elsewhere on the sustainability side, Simon has long been an advocate of lightweight champagne bottles since Haygrove's inception in 2015. "I think it tells a much better story if you can tell people you're saving a certain amount of carbon with these bottles. Berlin Packaging recently released an aluminium bottle, which is very interesting. In the cider world I'd like to think we'll be trialling some of these lightweight packaging options soon, which are very easily recycled."
Addressing industry challenges
Meanwhile, despite the "mind-boggling" number of vines being planted in England, the market is buoyant and showing no signs of a slow down or saturation yet, he said.
Nonetheless, both sectors face a number of challenges and overproduction of wine is a concern for Simon. The new duty regime is less than ideal for craft cider makers because of the way the small producers' allowance works at higher ABVs. Those making full juice ciders will naturally have higher ABVs which will likely wipe out the benefits of being a smaller producer with lower duty rates. The deposit return scheme can also be confusing, and changes to the Scottish scheme, which has been delayed until March next year, are welcome, said Simon.
Climate change is another issue – and whilst it could make it easier for vineyards to ripen grapes, earlier budding and late frost presents quite a production challenge, as do sudden hailstorms and droughts. Summer 2022 was the first time Simon had seen water stress in UK vines during his career. Overall, there were more positives than negatives, as disease pressure was very low on cropping vineyards, with little or no downy mildew and very low incidence of botrytis in the run-up to harvest, he said. However, there was a risk to those with young or newly planted vines, especially if planted late in the season. At Kingsthorne in Gloucestershire, a new vineyard Simon is working with, the vines were still very young and suffered water stress. "It's the first time I've seen leaves wilting in the UK climate. It did stop growth for that really hot period, so perhaps they didn't make quite the same growth they would have done."
Meet the maker
Simon Day is a consultant viticulturist, winemaker and head of production at Kingsthorne Ltd, winemaker at Sixteen Ridges, cider maker at Once Upon a Tree and production director at Haygrove Evolution. Having grown up at the Three Choirs Vineyard, which was set up by his father, Simon completed a degree in biochemistry and subsequently travelled to vineyards and wineries in Australia, New Zealand, Washington and Oregon, later returning to the UK to work at Denbies, Lamberhurst Vineyard and the La Mare vineyard and distillery in Jersey.
In 2001, he took over his father's consultancy business and subsequently formed the award-winning cider business Once Upon a Tree, became a director at Haygrove in 2015 and continues to consult. A big part of Haygrove Evolution is contract wine making, which is currently expanding with a new building and works with growers from all over the country.
Simon is also now working with Kingsthorne, a new 35-acre vineyard and soon-to-be winery on the edge of the Forest of Dean, Gloucestershire. There are plans for rewilding and a restaurant at the site and it will release its first red wine by the end of this year.