Soil Management For A Healthy & Productive Vineyard – Practical Workshop in Somerset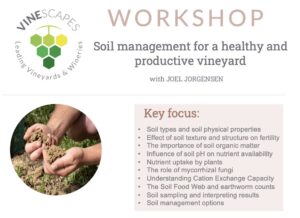 Date: 20th April 2023
Location: Wraxall Vineyard, Somerset.
Vinescapes are holding a one-day practical skills workshop focusing on 'soil management for a healthy & productive vineyard'.
This workshop will focus on understanding soil health and fertility, including its ability to make nutrients available and its capacity to hold water, and how this is influenced by its physical, chemical and biological properties. The workshop will discuss good soil management methods and how these benefit vine health, crop yields, quality and vineyard productivity, as well as improve biodiversity, carbon sequestration and sustainability.
Tickets can be booked here.