Malvern Autumn Show
September 22

-

September 24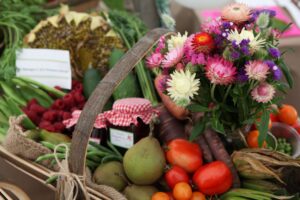 The Malvern Autumn Show returns for a fantastic three day harvest festival from 22nd – 24th September 2023.
Enjoy a tipple at the popular Gin Show, explore the open-air food & drink village, browse the incredible nursery and RHS Flower Show displays and be amazed by the size of the vegetables in the UK National Giant Vegetables Championship.
Highlights of the show include Orchard Pavilion celebrates both traditional and modern orchards, from apple orchards to damson orchards. There's a whole host of information on how modern-day orcharding practices compare to those practiced by our ancestors. This is the best place to buy orchard trees and produce from local orchards and farms.
The NEW National Fruit Show Education Area will include:
Tastings – Samples of apples, apple juice, fruit leathers and apple crisps
VR headsets – This shows footage of walking through a British Orchard in different seasons. Self led exercises where visitors put into order the life cycle of how soft fruit and/or apples grow.
Understanding packaging, so consumers can identify where fruit has come from
Display of the different types of growing fruit trees, such espalier, cordons and fans. Also demonstrating that tree are grafted rather than grown from seed and that you can graft more than one variety on to a rootstock
Careers – promotion of the British Fruit industry as a possible future career