Blossomtime 2023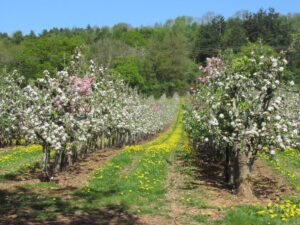 A special springtime opportunity to enjoy the lovely countryside and orchards of the Marcle Ridge in Herefordshire, where local orchards are famous both for their cider fruit and their dessert and culinary fruit.
The events take place over two days around Putley Parish Hall, where you will find an array of traditional ciders and perries from Herefordshire and surrounding counties, together with some of the makers for you to meet, and, on Sunday only, at Court Farm Aylton, where you can spend time in the cruck barn and amongst the apple trees.
Blossomtime is not just for cider enthusiasts.  Enjoy a walk through the orchards around Putley and Aylton, with or without a guide, then refresh yourselves with excellent homemade food.  Plan your day to include one or two of their special events, including some at alternative nearby locations.
For more information on the event, visit their website.