Ernest Doe & Sons' fruit and vineyard machinery working days prove popular
New and existing customers enjoyed an opportunity to see the latest fruit and vineyard machinery working at events organised by Ernest Doe & Sons in Essex and Surrey in early July. Machinery editor David Williams was there.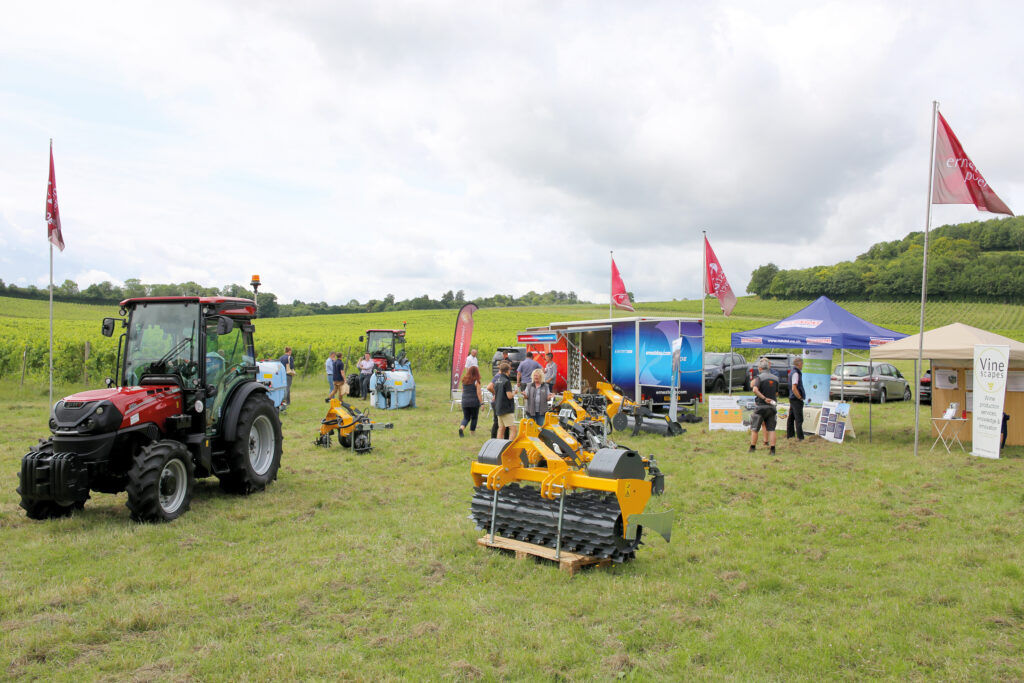 Ernest Doe & Sons, which has 19 depots supplying agricultural, horticultural and construction machinery and equipment across East and South East England, set up its Fruit & Viticulture division last year in response to growing demand for specialist machinery from customers across its trading area. As well as offering a wide range of products from long-established franchises, the dealer has also entered into agreements with specialist fruit and vineyard machinery manufacturers based in Europe and elsewhere to ensure it offers customers the very best brands and solutions available. Those currently represented include Case IH, New Holland, Dondi, Ideal, Berti, Provitis, Frost Fans, Tow & Blow, Fleming, Marshall, and Berthoud.
New Case IH specialist tractors
The working days took place at New Hall Wine Estate near Maldon in Essex, and at Denbies Wine Estate near Dorking in Surrey. At the Essex event, the latest Case IH and New Holland narrow tractors and the estate's own New Holland grape harvester supplied new by Ernest Doe last year were featured, while at the Surrey working day, which was attended by Fruit & Vine, highlights included the latest specialist Quantum narrow tractors from Case IH which arrived in the UK this spring (see our May/June 2023 edition for a full report). Other brands featured at the events included KRM, Teagle, Dondi and Ideal.
Great support from customers
Ernest Doe & Sons Fruit & Viticulture Division sales manager, Tom Wheatley was delighted with the attendance at both events. "All 19 of our depots are reporting increased demand for machinery for fruit and vine growing, so we expected there to be a lot of interest in the working days," he explained. "Many of those who came were from long-established fruit producers and vineyards, but there was also a good attendance of owners and managers of newer enterprises seeking advice before investing in specialist equipment. Most were genuinely interested in the machinery and solutions we can offer, and feedback was very positive. Visitors found the events useful."
"We have just over 80ha of vines," explained Olly Whitfield, Denbies vineyard manager. "We make sparkling red, white and dessert wines, depending on the season, and machine harvesting helps us make the most of the crop as soon as the grapes are ripe. It's good to see Ernest Doe & Sons investing heavily into our industry, and it gives us a wider choice of brands and machines to choose from. Tom Wheatley is always friendly, and happy to discuss our requirements and he gives sound advice. The dealer has a good range of kit to offer, and I like the Case IH specialist tractors. They are an affordable option with a great reputation."
Plenty of new products
Tom said that the latest Case IH Quantum and New Holland T4-series tractors were star attractions. The latest models feature significant improvements over earlier versions, and first deliveries of both brands to customers started this spring. For many visitors it was the first time they saw the new tractors in the flesh and the more comfortable and spacious cabs were widely commented on by those who enjoyed test drives.
KRM demonstrated its new side-discharge flail mower. "It's a very practical solution as it cuts grass and other vegetation between the vine rows, and then discharges the mulch through adjustable side chutes to the base of the vines," said Tom. "The chopped material provides nutrients for the crop, and smothers weeds providing effective under-plant weed control. As more growers seek sustainable alternatives to chemical weed control and artificial fertilisers, it provides an environmentally friendly solution."
Mechanical weed control machinery from Dondi was also in action and several visitors to the Denbies Vineyard event had come especially to see it working.
Speaking to customers
Based at Washington in West Sussex, the Winston Estate grows grapes for its own range of wines, most of which are sparkling although still wines and rosés are also produced.
"We already deal with Ernest Doe Power and have a Provitis vine pruner and an Ideal sprayer," explained vineyard manager, Travis Salisbury. "Back-up so far from Tom Wheatley and the Albourne depot has been excellent. From delivery to machine installation and then ongoing technical support, the service has been impressive. We need dealers who react quickly when problems occur, and we have complete confidence in the back-up from the Ernest Doe Power team.
"The Dondi Under Vine hoe impressed us at the demonstration. It's well made and features such as the oil cooling radiator are an advantage."
Enquiries and sales
"Both events went well, and we took several orders for new machines from people who attended. I'm very grateful to the venue owners and managers for allowing us to use the locations, and to all the supplier representatives who spent time explaining features and benefits of various models, and who helped make the event so useful for our visitors," Tom concluded.