Cut the plastic: Fruit & veg box supplier takes an innovative approach to packaging
One of the UK's first suppliers of fruit and veg boxes has switched to 100% paper or home compostable packaging – as well as a number of other measures to help protect the planet. Fruit & Vine magazine spoke to Riverford's head of sustainability Zac Goodall to find out more.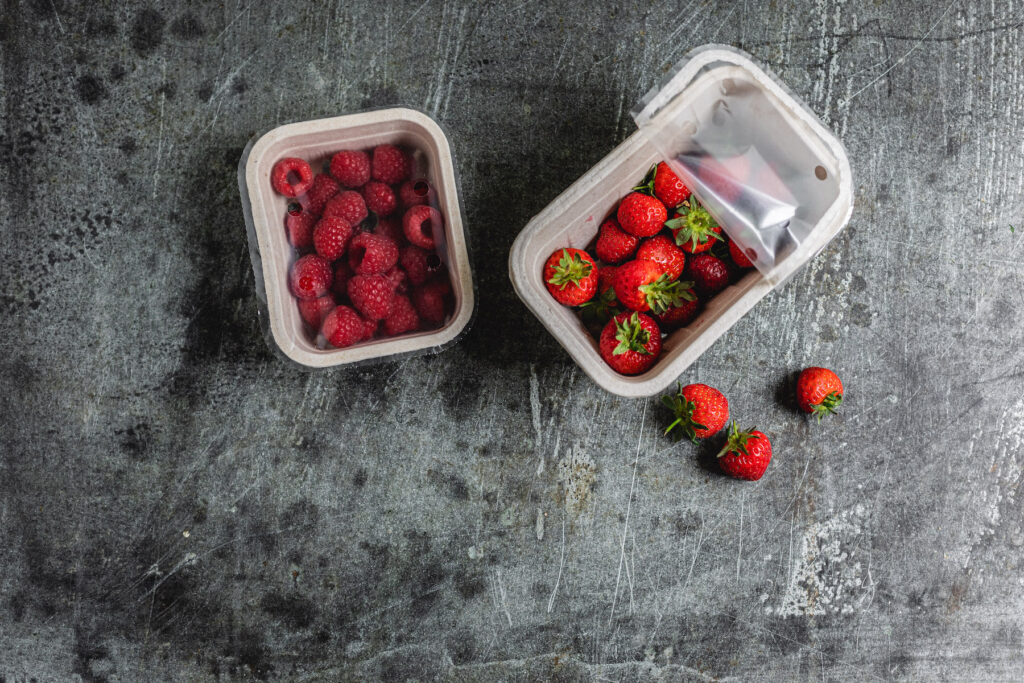 Set up by Devon farmer Guy Singh-Watson in 1987, Riverford has grown from supplying 30 local homes with organic veg boxes, to delivering around 70,000 boxes a week. Now employee-owned, the business has a strong environmental focus.
As of 2021, all fruit and veg packaging is now either paper or home compostable, and boxes are re-used an average 5-7 times before being recycled. Chilled product insulation and other items are also re-used, which is "great for saving emissions and reducing raw material usage", Zac comments.
The business aims to 'remove, reduce, reuse and recycle' packaging – as it seeks to balance the three issues of climate change, marine and land pollution, and food waste.
Intensive research
Whilst most fruit and veg comes in the reusable boxes, some products, such as leafy greens and soft fruit, require specialist packaging. It took months of intensive research to come up with a solution that could keep food fresh and avoid food waste, Zac explains.
It was decided that 100% home compostable materials were the most sustainable option.
"Once disposed of this packaging will disintegrate into pieces smaller than 2mm within six months, and properly biodegrade (breaking down not into microplastics, but into carbon dioxide, water vapour and organic matter, just like a plant decomposing) within a year. It will break down like this even in low temperatures, such as your home compost heap," Zac says.
"To close the loop, customers who cannot compost their packaging at home can leave it out for Riverford to collect, and compost on the farm to fertilise the next season's organic veg."
A sustainable future
Riverford has several other initiatives to improve sustainability in the pipeline – both on its own farms, and supplier farms. It has committed a portion of its profits (currently £1.8m) to invest in innovative projects to reduce its carbon and reach net zero by 2030.
"This includes converting our delivery fleet to electric – currently 35% of our fleet is electric and it will be 100% electric by 2025. We have committed to maximising solar on our roofs, and when our current installation is finished at our Sacrewell farm, we will have four sites with solar, generating enough electricity to power 220 homes a year.
"We are also improving our refrigeration systems to reduce electricity usage," he adds.
Riverford is also working on a whole farm assessment tool with the Soil Association, which measures nature, water, soils, carbon and more on its own and supplier farms.
"Riverford's Wash Farm already has a 14% for nature score (the RSPB advises 10%) and we are working with our supplier famers to improve environmental outcomes on their farms; this includes agroforestry projects – we are planting thousands of trees on Riverford supplier farms to increase productivity, shelter livestock, improve soil health and of course sequester carbon. We are also planting 1km of new hedgerows, building ponds, dams and undergoing wildlife surveys each year to make sure our numbers continue to increase," Zac concludes.
Riverford's founder Guy handed over the reins to the company's staff in June 2018 to protect its ethical values into the future. Riverford is now a B Corp; a certification for ethical businesses who work not just for profit but to benefit people and the planet, proven to uphold the highest social and environmental standards.