Combatting ongoing labour issues
With labour shortages being a constant battle with UK growers, Kirkland UK says it has researched and sourced the ideal machinery solutions for this seemingly perpetual problem.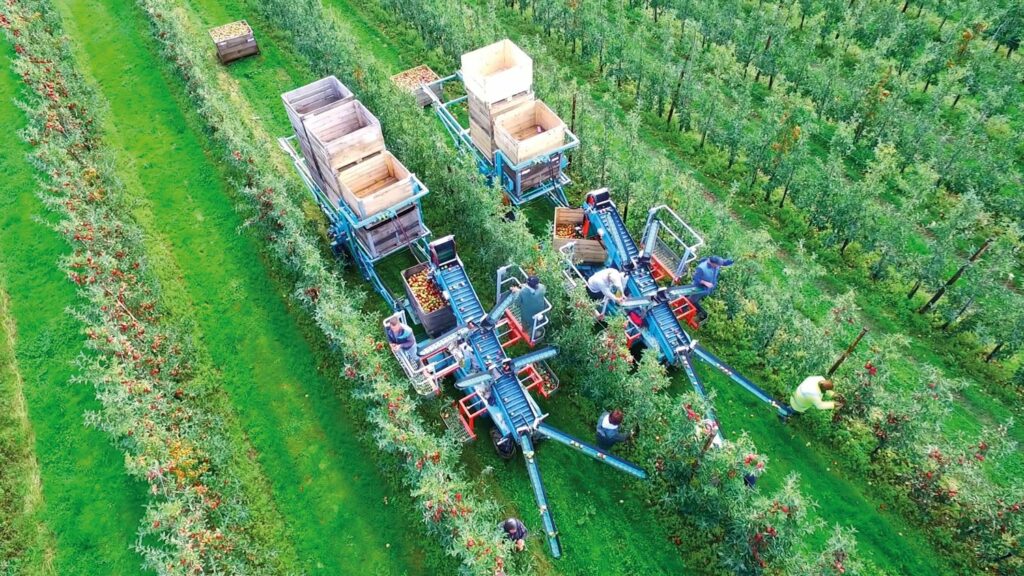 Tecnofruit harvesters are the ideal machine for commercial orchard use, supplier Kirkland UK says.
Available in two models, with various options including self-levelling and a semi-automatic bin trailer, the two Tecnofruit machines come with
the following benefits:
No binning out – Load and unload your harvester from the rear using either a rough terrain forklift or the unique Z4 bin carrier. This means the harvester is the first machine to pass down the row, therefore not driving in ruts – especially in a wet season.
24/7 after-sales support – Harvest is a hectic time for every grower, so Kirkland says it is proud to support UK fruit growers with its 24/7 aftersales support during harvest, alongside a huge supply of parts available for any breakdown.
Cost-effective – The harvesting labour cost can be reduced by up to a half, with estimated savings of about €15,000 for 10ha (data recorded in CCA) thanks to a smaller number of operators with a higher yield per person compared to traditional harvesting systems and waste reduction.
Future-proof – Tecnofruit manufacturer Darwin Harvest Group and Tevel Aerobotics Technologies have joined forces to create the world's first fully automated harvester. Providing real-time information on quantity, quality, size, weight, and colour of the fruit picked, it is also available as a 'bolt-on' solution meaning you can upgrade your current Tecnofruit fruit-picking harvesting system.
Excited for the future of harvesting
Hadlow College is one of Kirkland's customers, and the college's STEM lead, engagement and finance, Zoe Smith, says it is excited to be part of the future of harvesting. "Hadlow College is delighted to be working with Kirkland UK on our new orchard and vineyard project.
"We chose the Tecnofruit harvester as it perfectly matches our needs, and allows our students to be hands-on with some of the latest automation available to the industry.
"It was available in different sizes, which meant we could pick the one suitable for us, and will also have a camera system retrofitted later this year.
"This camera system will allow us to scan all the picked fruit, and our staff and students will then link these data with information gathered throughout the growing season from environmental sensors and drone footage, giving us a complete picture of fruit production.
"We're excited to be part of the future of fruit growing. Kirkland have been very supportive, explaining and demonstrating all the options available and helping us to select the most appropriate equipment. We're delighted to have such partners in the industry."
Increased efficiency
Prime Produce is another of Kirkland's impressed customers. "Prime Produce already operates 12 Tecnofruit machines across two farms," says the company's head of farming operations, John Clark. "The machines help us work faster, smarter and in a less expensive way than a traditional hand picking, laying out bin system.
"No laying out of bins in the orchard is required; all bins arrive on one trailer to the field and leave on the same trailer having been filled and back to the farm, with the trailer on a constant loop picking up and delivering bins.
"This means the bin team have shorter days, and each picker is pulled along to the speed of the machine, meaning no one person can slack without being noticed within the team.
Teamwork is built just by using the machines – one team leader per machine helps keep the machine working at maximum efficiency throughout the 8–9 hours of the shift.
"This all leads to less overtime due to the better use of all the pickers' time, all pickers working at the same speed and generally improved team efficiency.
"Quality control is essential in this business, and with one QC working across six machines, being able to see the picking, apples travelling to the bin, bin filling and being able to look over the bins as they drop off the back of the machines is a real positive. As the QC is moving between machines, they are able to assess what fruit is left on the trees plus any fruit that is on the floor.
"Being able to have all 12 machines working at full capacity, and having the option to use the machines for two eight-hour shifts per day without having to pay overtime if we need to bring harvest end date forward is a massive plus for our business."