Tuffon Hall: Diversification is a key driver for family-run vineyard
Nestled in the north Essex countryside, Tuffon Hall Vineyard has much to offer wine lovers thanks to its reputation for producing award-winning sparkling and still wines. More recently however, the estate has also become a popular staycation destination.
Introduction to Tuffon Hall
Established on the lands of a fourth-generation family farm in 2011, Tuffon Hall prides itself on producing wines of the highest standard from grapes that are exclusively estate-grown.
The vineyard is managed entirely by the Crowther family, overseen by owners Angus and Pod Crowther, and some of the wines even bear the names of their daughters – Amelie, Beatrice and Charlotte.
Speaking to Fruit & Vine, Angus said they began diversifying four years ago, with the aim of creating an additional revenue stream for Tuffon Hall. Since then, the project has grown to become an integral part of the business, with weddings alone accounting for 30–40% of wine sales.
Tuffon Hall wines are also enjoyed by many guests staying overnight. Visitors can choose from three luxurious accommodation options, which usually book up fast ahead of weekends and holiday seasons.
"I've been very impressed by the year-round bookings; I thought I'd only get business in the summer, but it's much more than that," Angus says. Although diversifying required considerable upfront investment, the returns seen so far have given the family confidence that it was the right choice for the future of the vineyard.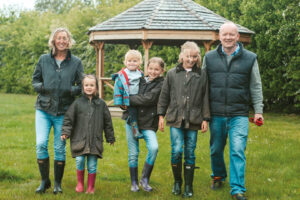 The farmhouse
Tuffon Hall's six-bedroom farmhouse sleeps up to 12 guests and is surrounded by stunning views of the estate. Angus says a lot of people who stay in the farmhouse also book wine tours and take home bottles of wine, making it a double win for the business.
Ideal for staycations, the farmhouse features a king-size suite along with a further five guest bedrooms, with one double room located downstairs for accessibility. The spacious building also includes three bathrooms, a downstairs cloakroom, stylish country kitchen, cosy sitting room with a log burner and a formal dining room.
The grain silo
For those seeking a glamping adventure, Tuffon Hall's upcycled grain silo (pictured above) has proved to be really popular with guests visiting Tuffon Hall. Featuring a star gazing roof, mezzanine level bedroom and wood fired hot tub, the Crowthers have created a unique glamping option.
The original structure was a very old corrugated iron grain silo, which Angus and Pod converted last year. "It was quite nice to upcycle the existing silo – it was the first time we did it, it's a good use for something that would otherwise have not been doing much," he explains.
According to Angus, planning permission for glamping was relatively easy to acquire, and he also managed to get grant funding to help cover some of the costs.
The poacher's hut
Set up in the style of a traditional shepherd's hut, the cabin (pictured below) sits slightly lower down the vineyard and is an alternative option to the grain silo. Perfect for a couple's getaway, the unit includes a cosy bedroom, kitchenette and shower room, accompanied by the luxury of a wood fired hot tub.
"People staying in the poacher's hut could enjoy drinking Tuffon Hall wine in the hot tub overlooking the vineyard, which is quite nice," Angus adds.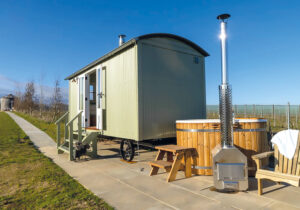 Tours and events
During the warmer months, the Crowthers are busy hosting vineyard tours, wine tastings, weddings and private and corporate events. Weddings take place inside a 16th century barn located right next to the vineyard, which the family converted around four years ago.
Angus says planning permission was an issue with the barn conversion, as the council had concerns regarding noise levels. However, the project was eventually given the green light, and the venue now hosts up to 30 weddings a year.
Angus explains that customers booking weddings are required to purchase a wine package from Tuffon Hall, ranging from two to three glasses per person to bottles of the best sparkling wine they have. "We sell 30–40% of our wine at weddings at a big mark-up compared to selling through trade or retail."
For those looking to start their own diversification journey, he recommends exploring different funding options and seeking professional help to navigate the grant landscape, as the application process can be quite challenging administratively.
Otherwise, he reckons it's just a case of getting started, and keeping in mind that returns might take longer than expected to come in.
As for the future, the family is focused on getting a return on investments already made and carrying on with what is undoubtedly a diversification success story.