Prestigious fruit award for Herefordshire agronomist
Hutchinsons agronomist Nigel Kitney has been recognised for his outstanding lifetime contribution to the fruit sector at this year's National Fruit Show.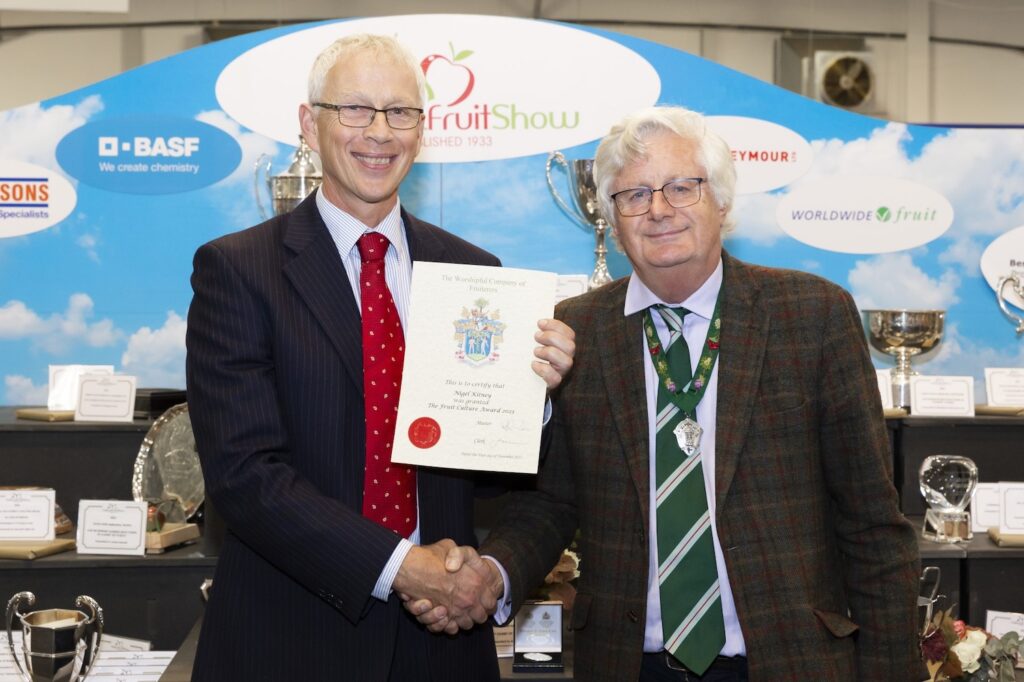 Mr Kitney, who is based in Herefordshire and advises clients across western and southwestern counties, was awarded The Worshipful Company of Fruiterers annual Fruit Culture Award, in recognition of his substantial contribution to the fruit industry through communication skills, contributions to tree fruit research, and technology transfer.
"There are a lot of excellent and very worthy candidates in the fruit industry, and competition for this award is stiff," said Chris Bishop, upper warden of the Livery Company, when presenting the award.
"The dedication and time Nigel gives to the industry merits recognition, and the Fruit Culture Award is a fitting way to recognise his contribution to the industry.
"As a commercial grower of apples himself, he has to practice what he preaches and is always willing and able to host trials to assess new techniques and technology. This further raises the respect he commands from growers who benefit from his advice."
Hutchinsons director Mike Hutchinson added: "Nigel's enthusiasm and innovative thinking have made a tremendous contribution to the fruit industry and to Hutchinsons. He has never been afraid of challenging conventional wisdom and this award is deserved recognition of all that he has achieved so far in his career."
Distinguished career
Mr Kitney's career began when helping his mother on fruit farms in Kent as a child, before going on to gain a degree in agriculture from Newcastle University, then a brief spell as a cereal agronomist with ADAS.
But the call of the fruit sector was strong, so in January 1987 he started managing fruit farms, first in Hertfordshire, before moving to Gloucestershire. He began working as a fruit agronomist first with John Hill Hops, and then 27 years ago this month, Mr Kitney joined Hutchinsons, where he has enjoyed a successful agronomy career, alongside growing his own 10ha (25 acres) of apples for supermarkets and cider manufacturers.
Mr Kitney has represented the industry on the Apple and Pear Research Council, and the HDC Tree Fruit Panel, before it morphed into the AHDB. He was a member of the AHDB Horticultural Board and Tree Fruit Panel chair for six years, from 2010 to 2016.
He recognises the need to drive the industry forward, and is involved with many research projects. This includes the 10-year Helios West trials, sited in his orchards in Gloucestershire, set up to develop more productive, future-proof, orchard designs, and test new digital technologies that could bring extra precision to orchard management.
Recently, Mr Kitney was a partner in a consortium with Optisense, Newcastle University and FERA, funded by the Newton Agri project and Innovate UK, participating in the REddApple Research Project. This aims to develop a new remote sensing and decision support tool to help growers and agronomists more easily identify threats such as scab, mildew, or red spider mite.
Following on from this project, he is currently part of a consortium that includes Newcastle University and Optisense, bidding for research funding to develop an automated spore capture system to monitor the levels scab or Downy mildew spores in orchards and vineyards.
Other projects Mr Kitney and Hutchinsons are involved with include research into the long- and short-term effects of biostimulants in apple orchards; novel approaches to canker control; and a long-term trial looking at whether foliar nutritional products can reduce the quantities of soil-applied fertiliser, thereby reducing the carbon footprint of orchards.
---